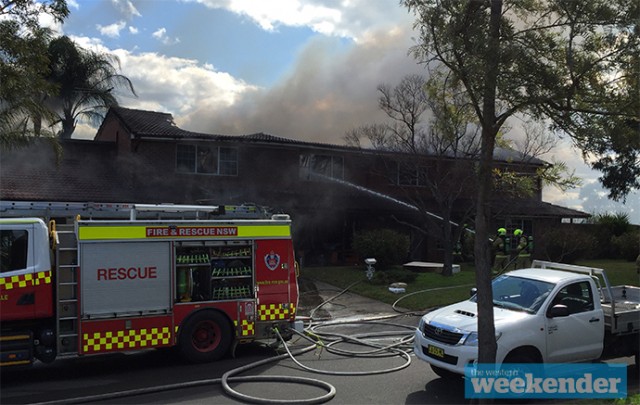 Fire crews will remain on the scene for most of the afternoon after a house in South Penrith went up in flames earlier today.
The property is believed to be home to a family of four.
While a man in his 30s, believed to be the son in the household, and a woman believed to be his girlfriend were evacuated safely, sadly the household dog didn't make it out alive.
Emergency services were called to the Bickley Road house just after 1pm today, Thursday, August 25, after reports the ground floor of a double storey house was well alight.
The man was reportedly treated at the scene for burns to his hand.
A quick-thinking neighbour saw plumes of smoke coming from the garage, and ran up to see if anyone was inside.
"I saw a man and a woman inside the house and I went to smash one of the windows to get them out," he told the Weekender.
"I couldn't lift the pot plant by myself to smash it but a guy came up and helped me lift it and we smashed it together.
"There was a dog inside but it didn't make it out."
At least eight fire crews attended the scene, as well as three ambulances and several police officers, some who cordoned off the street at all ends.
"I called triple zero and couldn't even finish what I was saying before I had to rush in to help," the neighbour said.
Another neighbour told the Weekender he has seen several different types of chemicals in the garage when has walked passed the property and that the fire crews were working to make sure the water didn't enter the drains.
Photos from the scene show the house to be almost completely gutted from the inside, with fire crews working to stabilise the property.
It's expected police will release a statement regarding the blaze later today.