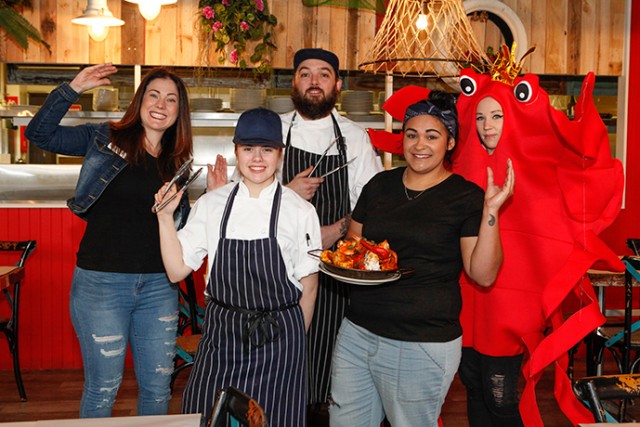 CJ's Crab Shack & Grill, located inside the Penrith Panthers complex, is a dining experience unlike anything western Sydney has to offer.
CJ's combine delicious, fresh seafood and quality ingredients with big, beautiful balanced flavours, plus a chance to get your hands dirty!
From their much-loved Boil section to their BBQ Grill, CJ's have all tastes catered for – no matter how big an appetite.
Opening last month and located on the pristine waters of Panthers Leagues, CJ's Crab Shack & Grill is a dining experience like no other.
The friendly, warm inviting staff 'wow' customers on a daily basis, and the option to "get messy" and even design your own quirky bib, gives off a relaxed and fun vibe that's perfect for the whole family.
CJ's most popular and by far their most impressive dish on the menu is the extraordinary CJ's Crab Shack Combo.
Featuring a little bit of everything from crabs to prawns and mussels, experience a taste that's out of this world with their delicious Creole sauce, Andouille sausage, new potatoes and corn.
And for something a little bit weird and wacky, why not try CJ's mouth-watering Cheeseburger Spring Rolls as a starter?
CJ's also has a great selection of daily specials including $2 Tacos with every drink purchase on Tuesdays; cheap cocktails for Thirsty Thursdays Happy Hour between 5.30-6.30pm, and pimped up Bloody Marys on Sunday Bloody Sunday including the famous Bloody Chicken and Waffles.
CJ's Crab Shack & Grill is great for a pre-game or pre-show meal and maybe even a couple of cheeky cocktails!
Who says you can't have fun while dining out!
CJ's is open for lunch and dinner six days a week from Tuesday through to Sundays.
They're located inside Penrith Panthers Leagues Club.
To book, call 4720 5652 or visit www.cjscrabshack.com.au.