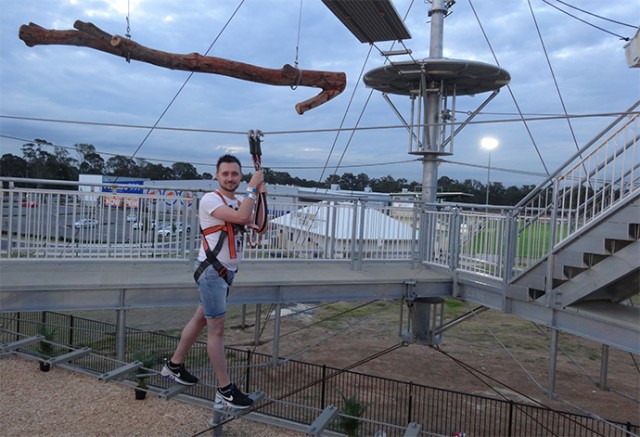 Five years in the making and after more than 12 months of construction, St Marys finally has an attraction that will rival anything the rest of Sydney has to offer.
Skypeak Adventures, adjacent to St Marys Rugby League Club, is a multi-million dollar facility featuring over 100 adrenalin-fuelled challenges including bridge walks, high trapeze swings, monkey bars, barrel runs, swinging branch clusters, rope swings, zip lines and free-fall drops, not to mention an eight-storey high tree climb.
Speaking with the Weekender, Founder and CEO Amgad Botros explained why St Marys was chosen as the home of Skypeak Adventures.
"I've been in the area for six years, involved with Go Bananas, and realised there wasn't a lot to do for teens and adults in the local area, so I went out and conducted a lot of research around the world, looking at a number of concepts, and we fixed ourselves on creating something with height," he said.
"We designed something unique that really takes people out of their comfort zone, to challenge them, and puts them in various physical and confronting situations."
The Weekender was given a first hand look at the new adventure wonderland last week.
Mr Botros said the aerial adventure aims to cater for western Sydney's growing population and challenge people to overcome their fears in a safe and fun environment.
"For kids it will take them away from technology and encourage them to get outside and be active," he said.
"It will also give adults an opportunity to relive one of their favourite pastimes."
In a world first, Skypeak Adventures has been custom built around an impressive centrepiece, a repurposed 28m tall River Red Gum Tree from a VicRoads project in Ravenswood, outside of Bendigo.
Mr Botros said introducing kids and reconnecting adults to the joy of climbing trees was at the heart of this innovative design.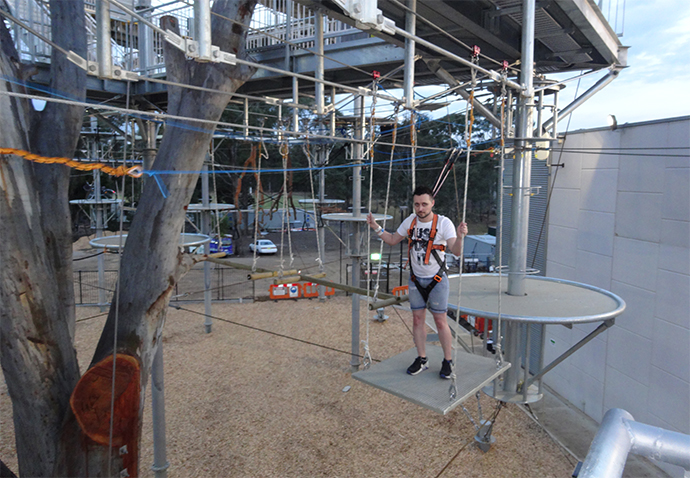 Set over a 2000sqm site and based on extensive worldwide research, participants have five courses to tackle, spread over different heights and difficulty levels.
Skypeak Adventures delivers the ultimate thrill for aerial novices and enthusiasts alike and will incorporate a separate kids course, multi-level walkway as well as disability modifications to enable people of all ages and abilities to enjoy the high flying fun.
"We hope tens of thousands of people from all over Sydney will visit us," Mr Botros said.
"It's one of those projects that took a lot of planning; a lot of everything to get it up and running, so we hope it's appealing to everyone in Sydney."
Corporate businesses and school groups will too have the opportunity to schedule customised leadership development and team-building programs.
The structure also includes a high-tech sound system, state-of-the-art lighting for evening experiences, Wi-Fi throughout to facilitate social media interaction and water mists to cool down in summer.
Skypeak Adventures is now open at 215 Forrester Road, St Marys.
For more information and to book an experience at the facility, visit www.skypeak.com.au.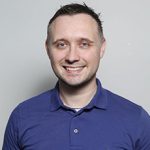 Nathan Taylor is the Weekender's Deputy Editor and Senior Sports Writer. He also compiles the weekly Chatter on the Box TV column. Nathan is an award-winning journalist, who has worked at the Weekender for nearly a decade.