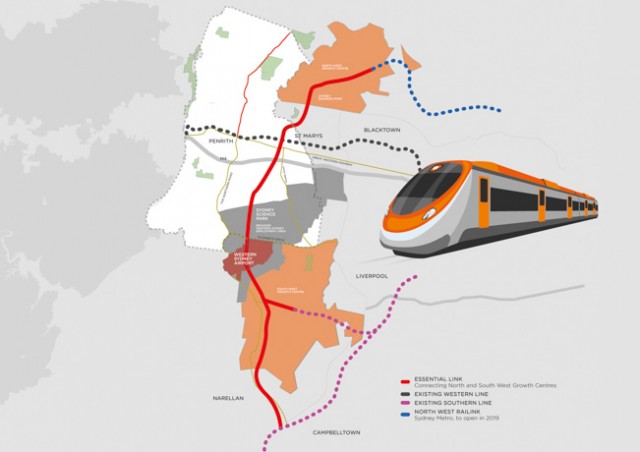 The Federal Government has committed millions to the design of rail around the future western Sydney airport, a decade before it's set to open.
Released in the Federal Budget on Tuesday night, $115 million was allocated to preparation work for the future airport, that included $26 million to develop a concept design for rail access.
After vigorously campaigning for a north-south rail link between Penrith and the airport, Penrith Council welcomed the announcement that brings their dream one step closer.
"Rail will re-shape the region and be followed by new town centres and jobs within 30 minutes of where workers live," a Council spokesperson said.
"With the right investment, Penrith and our region can be more competitive nationally and globally, give us a better quality of life and create new business and employment opportunities."
The $115 million is for just two years of work, with the Department of Infrastructure and Regional Development to see $65 million of it in the 2016 to 2017 financial year.
Member for Lindsay, Fiona Scott said the airport rail funding is in addition to providing further funding to NSW through the Asset Recycling Initiative, that will speed up the Western Line.
"There are three pieces to that rail commitment, one is the planning work, second is the preparatory work for the airport site itself, and third is the efficiency of the Western Line," she said.
But Ms Scott said it will take a range of infrastructure projects to work together and boost the Australian economy.
"It's not one project in isolation, it's the whole project working together," she said.
Other projects that were also funded include the Jane Street and Mulgoa Road intersection upgrade, upgrades to the M4 and the $2.6 billion Western Sydney Infrastructure Plan that includes the Werrington Arterial, The Northern Road, the M12 Motorway and Bringelly Road.
"This is a complete infrastructure package across our local roads, our state roads, our motorways, our rail and the future airport that is sure to secure a strong an diversified new economy for our region and will finally bring the much needed jobs and growth," she said.