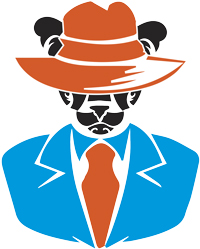 The dropping of Elijah Taylor to reserve grade in the days before Penrith's clash with Canberra last weekend certainly came as a shock, but only strengthens rumours that he won't be re-signed by the Panthers. The tackling machine is off contract at the end of the season and is set to be on the lookout for a new club with the Panthers unlikely to forward him an offer. Taylor looked a despondent figure walking off the Canberra Stadium turf after last weekend's NSW Cup loss to Mounties. However, he was certainly upbeat when we spotted him at training on Monday.
James Segeyaro will be missing for up to eight weeks after breaking his arm against the Raiders, which is a huge blow not only for the Panthers but also for the former Hooker of the Year personally. Segeyaro is off contract at the end of the season and is looking to impress both the Panthers and other clubs. I'm told club officials are yet to decide on their position when it comes to Segeyaro, who certainly failed to show his 2014 form last season.
The Panthers wanted to keep James Fisher-Harris' first grade debut under wraps until at least last Saturday morning but the news was leaked by an over-excited Fisher-Harris himself, who posted the news on his Facebook page on Friday.
A host of former Panthers players attended a successful Men of League season launch at St Marys Leagues Club last week. Kevin Kingston, Brad Drew, Ben Ross and Luke Swain were all at the event, which raised thousands of dollars for Men of League. Current players Bryce Cartwright and Reagan Campbell-Gillard were also at the luncheon, and participated in a Q&A on stage. Congratulations to all involved in the event.
Spotted: James Segeyaro and Trent Merrin enjoying a mid-morning coffee at High Street Depot on Monday.
It was simply ludicrous that a drinks break was not implemented for the players last Saturday in Canberra. The NRL leaves it up to both teams to decide on if a drinks break is necessary but it's quite clear that the code itself needs to determine when such a break should be implemented. Even Jamie Soward seemed confused, Tweeting on Sunday: "Drinks breaks for different games? Canberra has no beach to get breeze from either. Drinks break after a try scored equals 3-4 minute break. Still couldn't get one yesterday."
The hot conditions have forced the Panthers to limit their field work this week, especially considering the short turnaround from Saturday into Thursday. The side had a captain's run on Wednesday but the rest of the training work has been focused in the gym and in the video room.
St Marys Leagues Club is hosting a Saints To Stars sportsmans dinner on May 7. The event features a St Marys Greats panel including John Cartwright, Peter Wallace, Tim Grant and Shane Elford, with Wendell Sailor along for the ride as guest speaker. Alan Wilson will MC the event. To find out more, call the club on 9677 7777.
With the NRL season now well underway, 'myPlates' has the number plate range to satisfy the most ardent fan. Already have your club membership, jersey, scarf, cap and ball? Now you can show your support in the most tangible manner – by taking it to the streets with an NRL team number plate on your car. The NRL plate range is a simple and cost effective solution for fans. Just restyle your existing plate (utilising the existing letter/number combination) with your team's colour and logo design – this attracts a one-off fee of $250.00. If you want to take it a step further, you can personalise the content – get behind your favourite player, or place a special team message! This personalised content, where you choose your own letter and number combinations, attracts an additional annual fee starting at $102.00. Login to www.myplates.com.au for more information.
It's a busy time at Panthers behind the scenes and of course the footy itself is back, so it's no surprise to see our fearless leader Phil Gould taking a break from social media. Gus closed down his Twitter account last week, just days before resuming his commentary work with Channel Nine.
Don't forget I have my very own email address these days – [email protected] Send through your news tips, player sightings or gossip. I'm a great secret keeper, I promise! Maybe soon they'll even give me my own Twitter account!