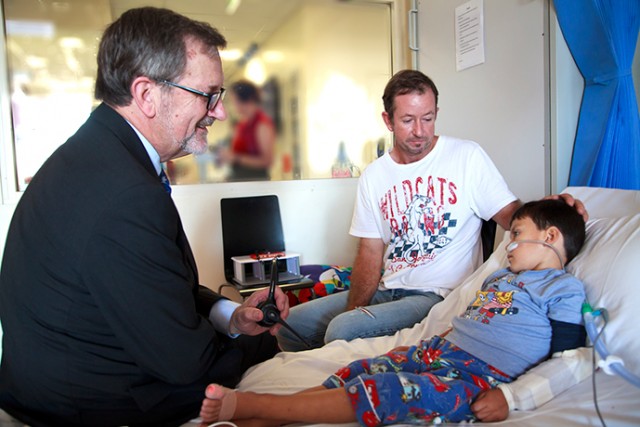 Nepean Hospital paediatric staff will have improved lines of communication when it comes to sick children after receiving revolutionary technology.
A presentation was held last Thursday, February 25, along with a live demonstration of the equipment – Vision for Life.
Using the Vision for Life technology, specialists are able to visually diagnose a child, ensuring they receive the correct diagnosis and immediate life-saving treatment.
Access to this equipment will help save the lives of children, cut down on misdiagnosis and unnecessary use of expensive aeromedical transport, it was said on Thursday.
Head of the Paediatrics Department at Nepean Hospital, Dr Anthony Liu, said it's important for the Newborn and paediatric Emergency Transport Service (NETS) to be contacted using this technology.
"It's good that we have this happening in real time as the specialists can see what's happening with the patient," Dr Liu told the Weekender.
"The team receive lots of phone calls all the time so to know exactly how the patient is, and not just hear it from another doctor over the phone, will help them better triage their services and allocate their resources."
The life-saving technology system was made possible by Variety – the Children's Charity and a donation that was made by the Commonwealth Bank of Australia.
"More than 50 Vision for Life cameras have now been installed around NSW, with funding still required to ensure all hospitals, and all of our children, have access to this vital technology," Variety CEO, Tam Johnston, said.
The initiative was given the green light after the Commonwealth Bank of Australia donated a $10,000 Community Grant, which allowed Variety to provide the telemedicine video system to Nepean Hospital.
"We're pleased to support Variety and the installation of the Vision For Life equipment at Nepean Hospital through our Commbank Community Grant program," Commonwealth Bank Penrith Branch Manager, Narelle Meredith, said.