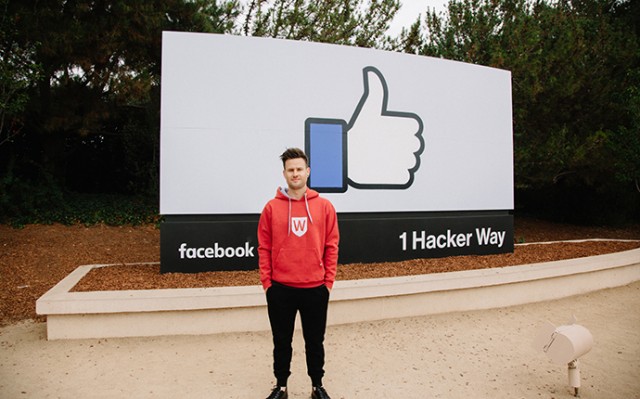 From Emu Plains to California's high-tech Silicon Valley, Luke Martin is now a driving creative force behind one of the world's most influential social media platforms – Facebook.
After studying a Bachelor of Design at Western Sydney University (WSU), he is now an Associate Creative Director at Facebook's new in-house creative agency, The Factory, producing advertisements for the company.
From Facebook's headquarters in Menlo Park, California, Mr Martin pointed to passion and dedication for his current career success.
"I try to complete every job I receive with complete passion, to make the most of every situation and opportunity, as you never know where it will lead," he said.
"Being positive and working hard is the best way to thrive in the industry, and in life."
It's been 10 years since Mr Martin graduated from WSU, and the decade brought him an array of jobs both big and small.
From a graphic designer at News Limited, to working for an advertising agency in Los Angeles, Mr Martin then scored a job with technology powerhouse, Apple. His work there caught the eye of Facebook, a company he said is open and collaborative and has given him the best year of his career.
"The office layout is entirely open so we can see what each other is working on. Out of the 2000 staff members, no one has an office, not even Mark Zuckerberg," he said.
"Everyone is young and enthusiastic and it's reflected in the culture. It's very different to other places I've worked, though easily the most enjoyable."
However, the biggest twist in this success story is the path Mr Martin's life was heading down before he was introduced to design.
At 16, Mr Martin was in an induced coma after a near fatal accident during a BMX competition, that upon recovery reshuffled his priorities towards his own BMX clothing brand, Tyme.
"After the accident I focused my attention on design… I started my own brand and found out about the course at WSU, and the rest is history," he said.
After growing up in Emu Plains and attending Emu Plains Public School and Nepean High School, Mr Martin said he made the right decision to continue his tertiary studies in western Sydney.