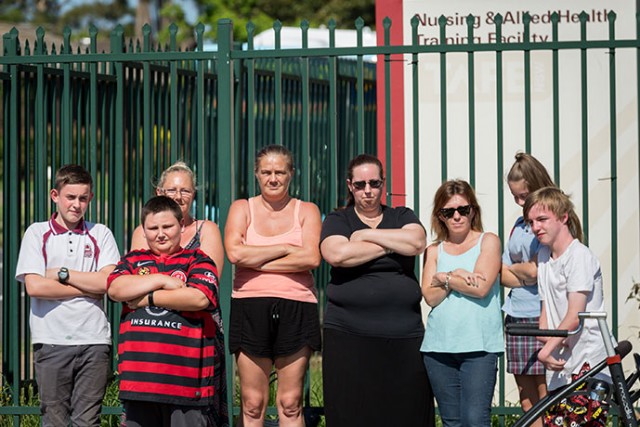 When temperatures soared above 40 degrees in Penrith on Tuesday, students at Jamison High School were left to swelter in classrooms that still don't have air conditioning.
And they are far from alone, with a staggering 46 per cent of learning spaces in public schools in the Penrith Local Government Area not air conditioned.
It is a disgrace that successive State Governments have been unwilling to fix.
South Penrith mother Katherine Amos said the lack of air conditioning is hindering students' safety and learning.
"They won't learn if they are uncomfortable and miserable, and it can't be good for staff either," she said.
Ms Amos refused to send her 13-year-old son to school in the peak of the November heatwave, fearing he would get sick.
"I was really concerned as he is in a walking frame, so I kept him home because it was way too hot and I wasn't going to subject him to that," she said.
"I believe I'm not the only parent that kept their kids home."
Ms Amos has started a petition on Change.org, questioning why children are expected to "suffer" through such heat.
"Most government buildings have air conditioning, then we have our kids stuck in buildings without it," she said.
"I want the Government to help us put air conditioning in our school. The P&C tell me we don't meet the criteria, and I don't understand why when it gets so hot here."
A spokesperson from the Department of Education said its air cooling policy aims at cooling the hottest classrooms in the hottest parts of the State first.
That's little comfort to students sitting in boiling hot classrooms.
"Schools with a mean maximum January temperature between 30 and 33 degrees are eligible to apply for air cooling of classrooms. Schools 33 degrees or above are provided with air cooling to all habitable spaces," the spokesperson said.
Penrith's average January high is 30.8 degrees. However, the temperature often soars significantly higher during the school year.
State Penrith MP Stuart Ayres admitted that the more learning spaces that have air conditioning, the better.
"The education department has a policy that prioritises investment into our hottest schools," he said.
"In Penrith we do experience occasional very hot days which does put pressure on some of our schools."