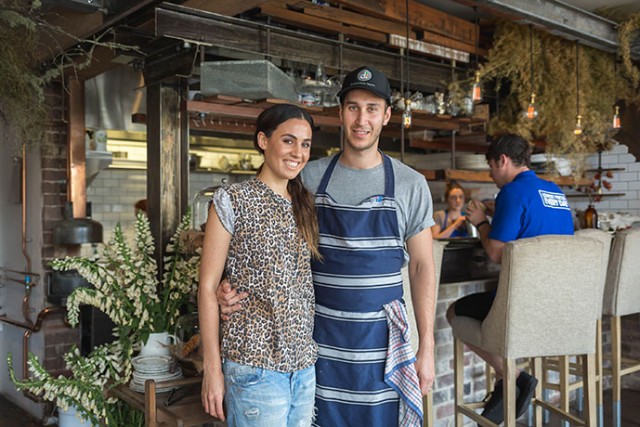 It's already played a role in changing the cafe culture of Penrith, now Henri Marc is ready for its next challenge.
After two years of operation, Henri Marc on High Street is testing out eight weeks of Friday and Saturday night trading.
It's set to be a major boost to the Penrith CBD's night-time economy, which is in desperate need of attention.
Henri Marc's young owners, Sophia and Aaron Bernecki, said their first trial last weekend with friends and family went smoothly, and they look forward to opening it to the community.
"We wouldn't do it if we weren't committed to it, and we want to get it right in these eight weeks and see how that goes," Mrs Bernecki said.
"We will do two sittings, one at 6pm and one at 8.30pm and we may reserve areas for walk-ins."
Now things have settled, both owners can work on an original dream that was lost amid the hustle and bustle of a morning cafe that quickly became incredibly popular amongst locals.
"We always envisioned that we were going to have a four-night-a-week restaurant, but somehow it turned into the beast that is Henri Marc, and we just got caught up in it all," Mrs Bernecki said.
Experienced in fine dining, they look forward to getting back into the swing of it throughout the trial and test out a new dinner menu.
"Once we get back into it, we will work it all out… and hopefully that's straight away," she laughed.
Night-time trade in the Penrith CBD has been a common goal for Penrith City Council and the Penrith CBD Corporation since the launch of the Penrith Progression campaign.
Penrith Mayor Karen McKeown was delighted to hear that Henri Marc is putting its best foot forward to create vibrancy and activation in the city centre at night.
"When you've got that vibrancy, that draws development into the city centre as well. People can then see this is an active space and has a great economy and then people will invest in it," she said.
"Good on them, hats off to them. It's fabulous news to hear that they are running with that as a pilot project, but I'm just hoping it's successful and they push on with it."
To enquire about making a booking, email [email protected]