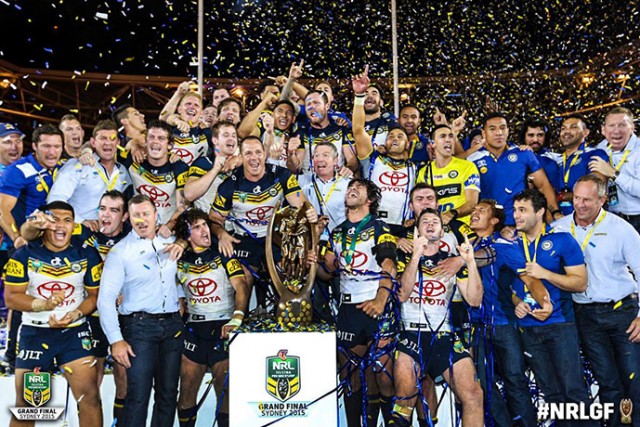 By Troy Dodds
I've got a shocking confession to make: I've developed a massive soft spot for Queensland.
In fact, I'm considering giving Greg Inglis a call to ask him how I can become a Queenslander despite being born in New South Wales.
And it's not just because of the epic finale to last night's Grand Final at ANZ Stadium. It was a game for the ages and as an overly optimistic Penrith fan who purchased tickets for the season decider back in June, I was so glad to be there to watch that truly incredible final 10 minute period.
As a sports fan there's probably half a dozen 'moments' you'll tell your kids about in years and decades to come, and there is little doubt that Sunday night will be one of them.
But what made the experience really special on Sunday was the spirit that existed inside the ground.
In Sydney, some of our great club rivalries are built on a near hatred for each other. Penrith and Parramatta, the Roosters and the Rabbitohs, Manly and just about anyone they play.
In Queensland, it's a different scenario – the rivalry is built on an extraordinary mutual respect both on and off the field.
I sat next to a family who had made the trek from Brisbane to cheer on their beloved Broncos. For 79 minutes and 59 seconds, they thought they had the game won. When it was taken away from them in the dying moments, they stood and applauded. There was a realisation that something special was unfolding – and they were simply overjoyed to be part of it.
It was reflective of others in the crowd throughout the night and was exemplified after the match when only a handful of the 82,000-plus crowd missed the presentation. I've been to plenty of big events at ANZ Stadium and I've never seen so many people stay for a post-match presentation.
Those Queenslanders even have us covered in the behaviour stakes. Just 14 people found themselves on the wrong side of police and security, a significant improvement on previous years.
There was a time when I'd hate a Grand Final without a Sydney team involved. Just like there was a time when I thought Queensland's State of Origin dominance was just becoming boring and repetitive.
But now my thoughts have shifted from jealousy and ignorance to enormous respect and privilege.
On reflection it has been a privilege to be able to watch Queensland's extraordinary State of Origin run, halted only once in the last decade by New South Wales.
A privilege to watch players like Johnathan Thurston, Billy Slater, Cameron Smith, Cooper Cronk and Greg Inglis play in the same side as each other – superstars of our game whose names will live on and be known by those never fortunate enough to see them play.
It was certainly a privilege to be in the stands on Sunday night to watch the first ever all-Queensland Grand Final and to see both Johnathan Thurston and Ben Hunt enter Grand Final folklore – for very different reasons.
The final game of Justin Hodges, the master coach Wayne Bennett, the new champion mentor Paul Green and two sets of fans that are legitimately among the most dedicated in the league.
All great Queensland stories.
Rather than loathe and complain about Queensland dominance, we should admire it.
It has given us some of the greatest ever rugby league moments, and we've been around to witness them.
You might not think so now, but when the dust settles and we look back on this era, we'll all be glad we saw it unfold before our eyes.