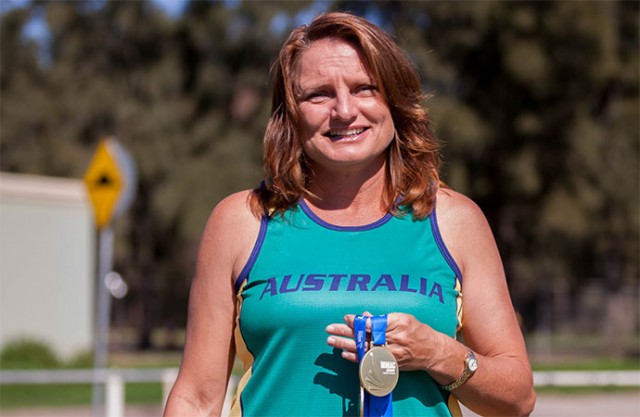 Cambridge Park resident Gabi Watts has proven age is no barrier when it comes to sport, winning both gold and bronze at the World Masters Athletics Championships in Lyon, France last month.
The 49-year-old competed in five events in the 45-49 age group including weight throw, hammer throw, shot put, discus and the throws pentathlon.
Watts finished first in the throws pentathlon, which is a combined event in track and field.
Like all pentathlon events, it consists of five sports including hammer throw, shot put, discus, javelin and weight throw.
Watts also came away with bronze in the shot put and finished fourth in each of her other three events.
Speaking with the Weekender, Watts said her first trip overseas to compete was an amazing experience.
"There was over 8000 athletes competing across four venues. It's such a huge event especially when it's held in Europe because the Europeans love athletics," she said.
"When I won gold in the throws pentathlon, they did the whole medal ceremony with the national anthem – it was unbelievable."
Watts has been a member of the Nepean District Athletics Club since she was six-years-old and, after 43 years at the top of her game, doesn't plan to give it away any time soon.
"I absolutely love it and plan to do athletics for another 40 years," she said.
"I think masters athletics is great because it encourages men and women to continue competing no matter how old they get."
World Masters Athletics is the worldwide governing body for the sport of masters athletics, which includes track and field, cross country and road running events. It's participated by people over 35.
The next World Masters Athletics Championships will be held in Perth next year, with Watts planning to defend her title.
"Masters athletics is growing quite popular in Australia and that was evident with the 220 Australians that went over to France to compete," she said.
"After 18 months of training, I'm going to take a little break before getting back into competition this summer."
Watts wasn't the only member from Nepean Athletics to compete in France with walker Joan Purcell coming home with three bronze medals.
– Nathan Taylor