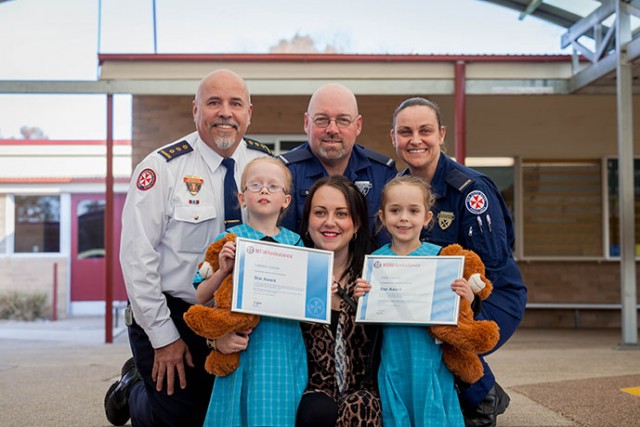 Local sisters Isabelle and Mia McLean were rewarded at a special presentation on Tuesday after they were quick to act in contacting Triple Zero (000) during an incident involving their mother.
When Kelly McLean collapsed at their home in May, possibly from a pre-existing medical condition, seven-year-old Isabelle and five-year-old Mia rang Triple Zero.
The girls were both presented with a 'Star Award' at their school, Jamisontown Public, for their bravery during a scary time.
Ms McLean said she had taught her children at a young age what to do in the case of an emergency.
"I told them that if anything should happen to mummy they should always call Triple Zero," Ms McLean said.
"I was amazed by the information that the girls were able to give the call taker."
At about 6.40pm on May 20, Ms McLean was putting her two-year-old son to bed when she collapsed after suffering from a 'dizzy spell', possibly from having epilepsy but it has not been confirmed by doctors.
While on the call, Isabelle was able to correctly provide her family's address and contact details as well as outline her mother's medical condition to the call taker, Priscilla Velthuys.
Isabelle's quick response enabled the immediate dispatch of an ambulance.
Not only did the girls ring 000 but while on the phone Mia also went next door to her neighbour's house for help.
NSW Ambulance Acting Duty Operations Manager, Michael Magyary, who was first on the scene, said he was really impressed with how the girls handled the situation.
"They kept their composure and did a great job answering questions about their mother's medical condition," he said.
"NSW Ambulance receives a number of calls each year from children placed in the position of having to manage a medical emergency.
"Teaching your child how to contact Triple Zero and making sure they know information like their address and phone number, is extremely important and can help save lives," he said.
A Triple Zero Kids' Challenge is available as a phone app and teaches children the importance of calling Triple Zero for help when it's needed.
For more information you can visit www.kids.triplezero.gov.au.
"I am just so proud of my daughters and would hate to think what could have happened if they hadn't acted quickly," Ms McLean said.
"It's important for all the parents out there to know how vital it is that you teach your kids to call Triple Zero."
Both Isabelle and Mia said they want to grow up to be paramedics.
– Jade Aliprandi