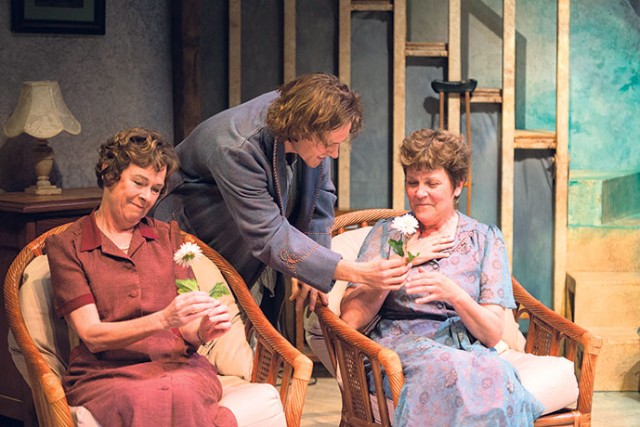 Regardless of whether you recognise her name, if you're a fan of Australian TV you will probably recognise her face.
Penny Cook has appeared in a host of local productions including 'A Country Practice', 'E Street' and 'The Flying Doctors' and was also a regular presenter on the popular travel show 'The Great Outdoors'. Since those days TV programming has seen a huge shift, with reality TV shows dominating our screens.
Talking to Penny about her early work in Australian drama, it's clear that she agrees there's just not enough of it around anymore.
"I think there's definitely room for more, the problem is that reality television doesn't cost nearly as much as drama," she said.
"There's not an awful lot of drama happening but Foxtel does seem to be leading the way in some respects. The ABC's also got a good thing on at the moment.
"There's bits and pieces around but there can always be more."
Though Penny is a recognisable face on Australian TV, she is also very passionate about the theatre having been involved in nearly 40 productions and the formation of the famous Griffin Theatre Company in 1979.
Penny is currently starring in the theatre production 'Ladies in Lavender' which started its life as a short story by William J. Locke before being made into the 2004 English drama film starring Judi Dench and Maggie Smith.
It's a film that Penny admits she hasn't yet seen.
"I don't know how I've missed it," she said.
"But then I thought I really didn't want to see it when I found out I was doing it."
The story is set after World War I and follows ageing sisters Ursula and Janet who discover a young man on a beach in a Cornish fishing village.
Being near death the pair decide to take him in and care for him but his arrival stirs up emotions in the women that have long laid dormant.
Penny will be taking on the role of Janet, the character Maggie Smith played in the film adaptation.
Taking on a role played by such a well known actress could have been daunting, but Penny said it's not something she thinks too much about.
"You don't ever worry about that sort of stuff because our production's nothing to do with the movie," she said.
"It's just another acting gig," she laughed.
Along with Penny, 'Ladies in Lavender' stars Sharon Flanagan and Gael Ballantyne, with direction by Nicole Buffoni and adaptation for the stage by Shaun McKenna.
The show opened at the Ensemble Theatre in Kirribilli in early July and so far the response has been hugely positive.
The Sydney Morning Herald said: "Penny Cook and Sharon Flanagan are expertly matched and very convincing as the temperamentally contrasting sisters and, in his first Sydney production, young Benjamin Hoetjes is ideally cast as Andreas."
"It's just a really delightful time in the theatre, someone described it as enchanting and I think it is, it's an enchanting piece," Penny said.
For Penny it's been nice to finally get the chance to bring the production to audiences.
"It's sort of lonely in the rehearsal room when you're ready to be met by people that are going to watch you and so it's a lot of fun when they do," she said.
Penrith audiences will have the chance to experience this charming production when it arrives at the Joan in August, where it will finish up its final performance on Saturday, August 22.
After years in the theatre, Penny still enjoys each production as much as the last.
"We're play acting. It's just grown up play acting and it is a lot of fun," she said.
'Ladies in Lavender' will be on in the Q Theatre at The Joan on Friday, August 21 at 11am and 8pm and Saturday, August 22 at 2pm and 8pm. Tickets are $50-$55 or $30 for Seniors Matinee Club tickets to the Friday, August 21 11am performance. For more information or to purchase tickets visit www.thejoan.com.au.
– Kate Reid