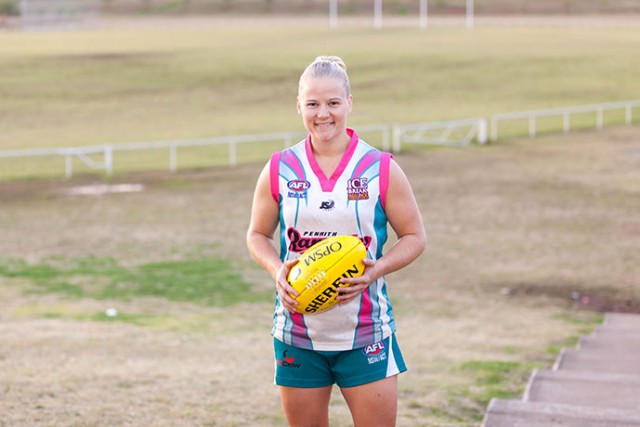 Nikki Perrett almost didn't play AFL, instead she was considering playing rugby league until she saw some of the opponents she was up against.
"When I went down to a tryout I thought I was going to get injured because the contact was pretty full on," the 26-year-old told the Weekender.
"I had a friend of mine tell me about AFL, so I went and had a kick, and it turned out I was really good at it."
Perrett wasn't exaggerating, she was really good at it, and in 2013 she signed up to be a member of the Penrith Ramettes ladies AFL team.
Two years on, and she hasn't looked back.
During her first season in the sport, Perrett finished an incredible second in the team's Best and Fairest Award before going one better last season and taking out the top prize.
2014 also saw the local gardening supervisor win the prestigious Sydney AFL Best and Fairest Award as well as be selected in the Sydney women's AFL representative team.
But perhaps Perrett's biggest achievement to date came just recently when she was chosen to play for a combined NSW/ACT team against northern rivals Queensland.
It was the first time a Penrith player had ever been selected to play for their state with Perrett doing the whole club proud.
While the Waterside resident and her teammates didn't come away with the win against the Queenslanders, she had an amazing time regardless.
"It was a great experience and a huge surprise considering it's only my third year playing football," she said.
"I ended up playing the full game, which was challenging, but all the coaching staff and my teammates said I played a great."
The match between NSW/ACT and Queensland was the first of its kind for the growing female sport, with Perrett hoping there'll be many more fixtures to come in the future.
"Women's AFL is one of the fastest growing sports there is and I really hope to make the side again next year," she said.
"In the meantime, I'll be concentrating on helping the Ramettes make the finals for a second straight year."
The Penrith Ramettes are currently sitting in fifth position.
– Nathan Taylor