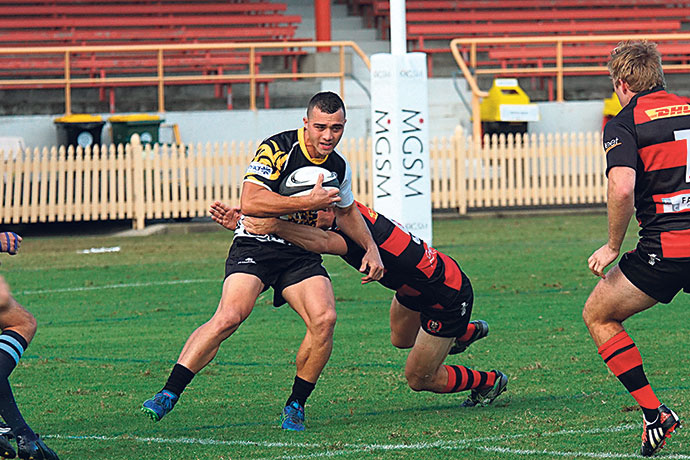 Penrith Emus President Jim Hook has declared the future is bright at the embattled club despite experiencing one of the worst defeats in sporting history last weekend.
Playing against competition heavyweights Eastwood, the struggling rugby club were smashed 454-0 across four grades, with their Shute Shield side enduring their worst loss in recent memory, going down 129-0.
The news was just as bad for Penrith in the other grades with second grade trounced 125-0, third grade walloped 136-0 and fourth grade losing 64-0.
Mr Hook said last Saturday's debacle at T.G Millner Field was difficult to comprehend.
"We fell to bits last weekend for a whole host of reasons. We have lots of injuries and we were playing a very professionally run, high performance football club from first grade through to fourth grade," he said.
The Emus, who are yet to win a game in first grade this season, have been considered the joke of the league for some time and are in desperate need for help right across the board.
Mr Hook revealed he's been in negotiations with NSW Rugby for quite some time for assistance, with things progressing slower than he would've liked.
"We're not as financially resourced as some of the other clubs and I've been in negotiations with the powers that be for assistance on and off the field for a while," he said.
"We're working hard with NSW Rugby and with our coaching staff to make sure we fine tune our football operations so we become more competitive on the field."
Speaking with the Weekender, Executive Director Bruce Worboys confirmed NSW Rugby were in constant talks with clubs across western Sydney to improve the state of the sport in the area.
"In February this year NSWRU appointed senior manager Mike Doyle to review the rugby structures in western Sydney and he's been meeting with stakeholders in the region, which of course includes Penrith," he said.
"A report is being finalised for NSWRU to present a proposal to the Australian Rugby Union, which will promote rugby to regain status in western Sydney."
Mr Worboys also acknowledged Penrith's current dire situation and hoped the club's strong junior base would lay a platform for a positive future.
"Through a lot of hard work by rugby volunteers we have seen Penrith District Juniors enjoy success the last two years with their U17's recently crowned state champions," he said.
"A number of these players are graduating through to Colts and these teams are starting to perform consistently. We will be looking for these teams to progress through to grade in due course.
"Unfortunately in recent times Penrith has not been able to maintain a core playing group that can stabilise a club through the grades and that is being addressed by the review and through the Sydney Rugby Union."
The Weekender understands a salary cap of $200,000 per club will be implemented next season to put a halt to up and coming talent leaving struggling clubs.
– Nathan Taylor