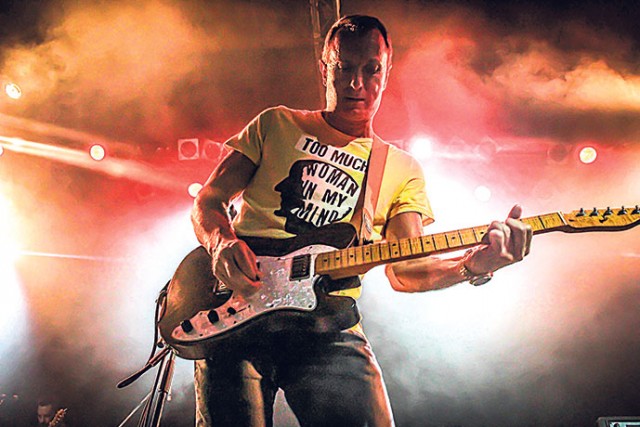 For iconic singer/songwriter James Reyne it seems there's no place he'd rather be than on the road doing what he loves.
After the success of his 2014 'Plays Australian Crawl' tour, that saw James perform for more than 100,000 fans, he is back on the road in August and September to play all his hits on the 'Solo, Crawl & More' tour.
"I'm looking forward to it," he said of the tour.
"There's a lot of good songs there. I think people will enjoy it because it'll be 90 minutes of just hits.
"All killer, no filler, as we say."
The tour will feature tracks from James' extensive back catalogue including Aussie classics like 'Boys Light Up', 'Reckless', 'Fall of Rome' and 'One More River'.
His music has become part of the fabric of the Aussie music landscape but James says at the end of the day he's just happy being able to do what he loves.
"I've been doing this for over 30 years now and I'm just grateful that I can still get out there and do it and people are still interested to come and see it," he said.
"I get to do [as my job] the thing that I'd probably be doing anyway if I wasn't doing it as a job.
"If you enjoy your work, life is good."
With initial tour dates selling fast, James has added an extra show to the tour which will see him take to the Evan Theatre stage at Penrith Panthers on Friday, August 21. The plan is simply to get his music out to as many people as possible.
"That's where most people live so you might as well go to where people live," he laughed.
"Panthers and places like that are just great places to play.
"They've always got really good auditoriums, they're set up well to do this sort of thing."
Along with the tour James will be releasing his new six track self titled EP 'James Reyne and the Magnificent Few' on iTunes today which features new material from James and band mates Brett Kingman, John Watson, Phil Ceberano and Andy McIvor.
The EP was recorded in Melbourne at Woodstock Studios and the majority of the tracks were written over the last 12 months, though for James songwriting is a constant process.
"I'm always writing songs," he said.
"You're like a magpie I think if you're a songwriter. You just pick up little bits and pieces all over the place and you just store them away or write them down.
"My synapses are always open to things that might be good ideas for songs."
The new EP includes the strikingly titled lead single 'What A Pain in the Arse It Is (To Run Into You Again)' which was released nationally on Monday, June 15.
"It's been great," James said of the feedback for the track.
"People who hear it love it. They've been really nice and said nice things."
Along with the 'Solo, Crawl & More' tour, James and the Magnificent Few will be doing two one-off live shows at the Newtown Social Club in NSW and Northcote Social Club in Victoria this July.
As well as the six tracks, which include 'I'd Still Be In Love With You' featuring Aussie singer/songwriter and guitarist Mia Dyson, the 'James Reyne and the Magnificent Few' EP also showcases a bold cover image of a muscle bound surfer with the head of a bull that James discovered while looking through a book of surf art.
"I like the image because it sort of suits how we think we are in the band," he said.
"We may not be that but in our tender years we think 'yeah we're still there, we're still happening'," he laughed
"It's sort of an image that suits the music and the people and the personalities involved."
It's these little touches that are important to James in an era where digital music is slowly replacing the tangible aspects of CDs and records.
"I'm old school. I like having good cover art, I like the process," he said.
James Reyne will be performing his 'All The Hits' show at Evan Theatre on Friday, August 21 at 8pm. Tickets are $58.60.
For more information or to purchase tickets visit www.penrith.panthers.com.au.
– Kate Reid