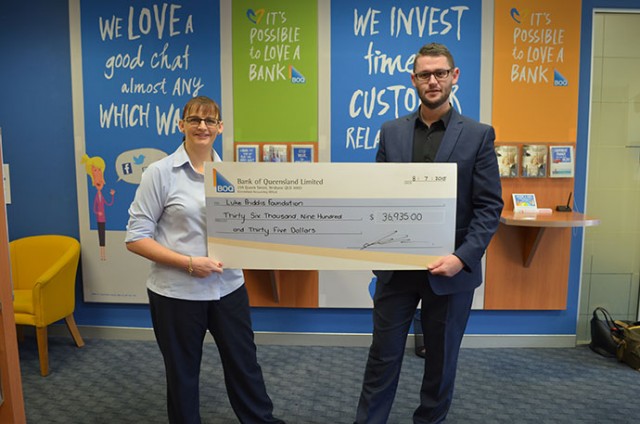 Nearly $37,000 has been presented to the Luke Priddis Foundation, with the funds to go towards assisting children with autism.
Penrith's Bank of Queensland (BOQ) branch handed the foundation a cheque for $36,935 on Wednesday – funds raised from a Golf Day in early March.
The Luke Priddis Foundation's General Manager, Tamara Van Antwerpen said the funds will go towards a social program for 12 to 16-year-olds.
"The funds will be put towards running social skills groups, the most recent is the Emjoi-Project, which is groundbreaking because it's for teenagers," she said
"Most of the work people do with autism is based around early intervention, but autism doesn't go away as kids get older."
Ms Van Antwerpen said the program is based around social media interaction and using emoticons to represent daily emotions.
"Extreme behaviours are often the result of frustration as these teens struggle to evaluate emotion signals and express their need for attention, understanding and patience," she said.
The profits from the Golf Day primarily come from sponsors such as BOQ, who have been supporting the Golf Day for almost 10 years, and other organisations who get involved.
"As a small local branch we love contributing to local charities, it means a lot," said BOQ Penrith's Mobile Lending Manager, Drew Clegg.
"If we can put a little bit of our time into helping a cause such as this that can change someone's life, even in the smallest way, then we've done what we set out to achieve."
– Dale Drinkwater