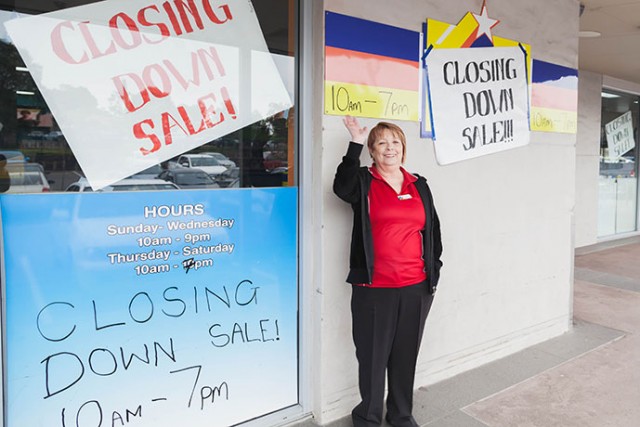 "It's a Civic Video night tonight" – the residents of South Penrith will be singing that famous jingle no longer after the Southlands franchise decided it was time to close its doors.
After nearly 19 years at Southlands Shopping Centre, Civic Video store owner George Vatis has regretfully decided to pull the pin on his beloved business, due to a number of years of declining profits.
With movie kiosks, Foxtel, iTunes and streaming services like Netflix and Stan taking over the Australian market, many believe these new ways of accessing movies and TV shows will be the death of video stores for good.
It is the end of an era and one future generations are unlikely to understand.
While Mr Vatis agrees streaming services have had some impact on his business, he believes something far more sinister is to blame for the closure of the humble video shop.
"The biggest single factor leading to the decline of the movie rental business has been the stealing of intellectual property – cutely named piracy – by otherwise mostly law abiding citizens," he said.
"We have a culture of entitlement in this country and many Australians don't think they should have to pay for content… they don't believe there are victims of their crimes."
While Mr Vatis is devastated at the fact he has to close his long-standing business, he does have many fond memories of its early existence.
"I remember those early days when it was so busy that people didn't mind queuing up as staff rewound the VHS tapes," he recalled.
"No one cared, they just jumped in the queue and chatted to others about movies, it was just really nice.
"Over the years we've also easily given 150 kids their first jobs. We've even helped charities, school fundraisers – it's that loss of community as well, it's bloody awful."
Civic Video will shut its doors for the final time early next month, ending a near two decade relationship with the local community. Mr Vatis said he owes everything to his loyal customers.
"I can't thank my customers enough for the past 20 years. I owe them everything and there would be no business without them," he said.
All DVDs, Blu-Rays and games are currently for sale at the Civic Video store.
– Nathan Taylor