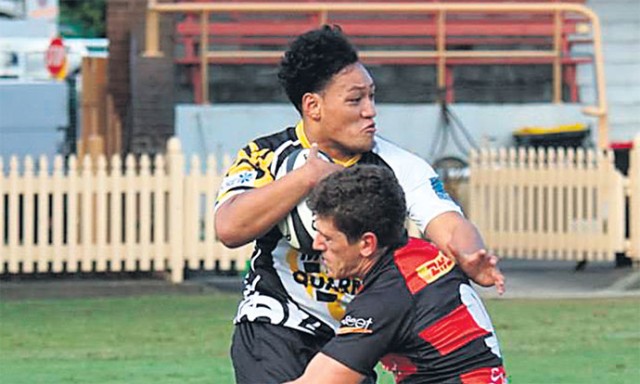 Sam Siaki moved away from his family in New Zealand to pursue his dream of playing rugby in Australia.
The 23-year-old factory worker ended up at the Penrith Emus and it hasn't been the smoothest of rides.
While Siaki is very grateful for the opportunity, his Emus are currently winless after 11 rounds and struggling most weeks to even put points on the board.
But despite the obvious challenges on the field, Siaki is enjoying every moment of his life as an Emu.
"I've been playing rugby since I was 11-years-old. I came to Penrith to play some footy and get a taste of the Shute Shield… and man, it's alright eh," Siaki said.
Siaki is keen to continue building his career at the Emus and says the Shute Shield is a great competition.
"When I first came to Australia from New Zealand, I started playing rugby in the country and I thought I'd give the Sydney competition a go," he said.
"I'm loving the Shute Shield, it's the competition you want to be playing in."
Siaki's words would be music to Penrith coach Sateki Tu'ipulotu's ears, especially considering he's lost a huge chunk of players over the years who have fallen out of love with the Emus.
"It's a privilege to play for the Emus," Siaki said.
"I'm looking forward to learning more about the club and I believe if this group can stick together for the next two years, we'll be one of the teams to beat in the competition."
Right now the Emus look a better chance of winning the lottery than a game in the final seven rounds, but the Penrith hooker hasn't given up hope of singing the team's victory song.
"We believe in each other and if we show that at training then hopefully we'll come out with a victory shortly," Siaki said.
Siaki praised coach Tu'ipulotu, who he said remains confident and upbeat despite Penrith's position on the ladder in the Shute Shield.
"Coach always tells us to keep our heads up, be composed," he said.
"The time he has given up for us is marvellous, we want to make him proud."
The Penrith Emus return to Nepean Rugby Park this Saturday at 3pm to take on the West Harbour Pirates.
– Nathan Taylor