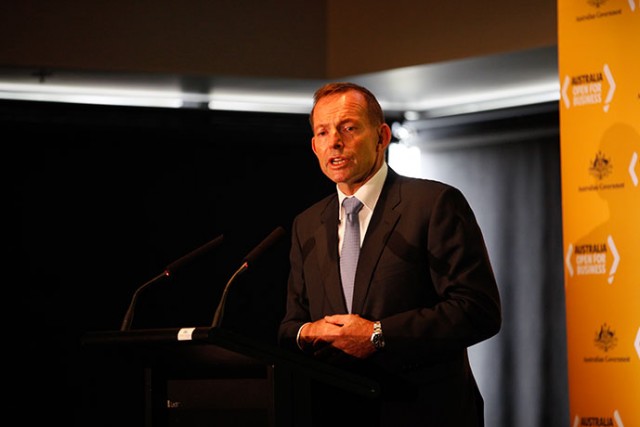 Prime Minister Tony Abbott has cemented western Sydney's economic importance with a visit to convince local businesses to trade internationally.
Mr Abbott addressed a seminar at Penrith Panthers on Wednesday to encourage small and medium enterprises to export their goods and services to north Asia.
"This is western Sydney's chance to become familiar with the free trade agreements that are going to be so much a part of our economic future," he said.
"In partnership with South Korea, Japan and China, we have opened a door [for the businesses of Australia] and now we want you to walk through it."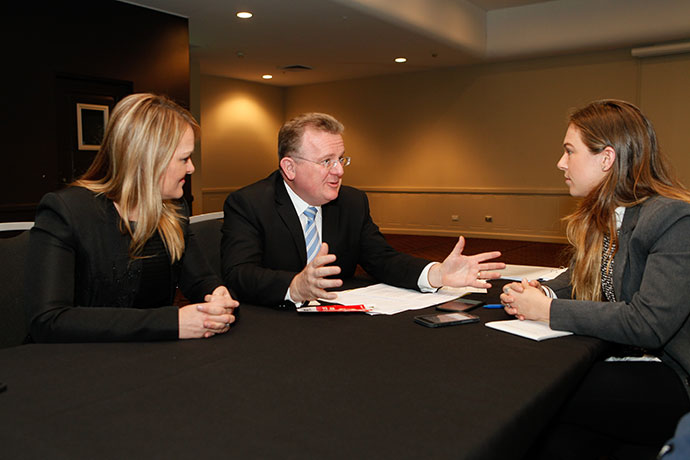 Mr Abbott said the three Asian economies are responsible for 60 per cent of Australia's merchandise trade, and once free trade agreements are fully operational, 95 per cent of trade will be entirely duty free.
"There are many elements to a strong and prosperous economy, lower taxes, less regulation, better infrastructure… but a very important part of building a prosperous economy is freer trade."
Mr Abbott was joined by Minister for Small Business, Bruce Billson who said free trade will give local small businesses a huge array of "delicious" opportunities.
"[It will provide] access to the north Asian markets where there's hundreds of millions of prospective customers – more people live in this catchment than outside it," he said.
"We are finding a really close link between the visitor experience and the flow on effect of demand for food, wine and premium products [overseas].
"There's a growing range of middle class people wanting our food, our experiences, our technology and our services industry."
Mr Billson said the government wants to build on the appetite of local small businesses to export and give them the capacity, confidence and competence to do it well.
"But, it's really about confidence, it's something you have to be fully committed to – exporting needs to be embedded in your business plan," he said.
Federal Member for Lindsay, Fiona Scott said Penrith has the potential to lead the world in innovation and technology and achieve its objective to become a medical and research hub.
"UWS has signed a Memorandum of Understanding with the Bejing University of Chinese Medicine where they are going to do clinical trials and activate within the Werrington Corporate Centre and the Sydney Science Park," Ms Scott said.
"We as a region really have so much opportunity that has been created by this Federal Government."
– Dale Drinkwater