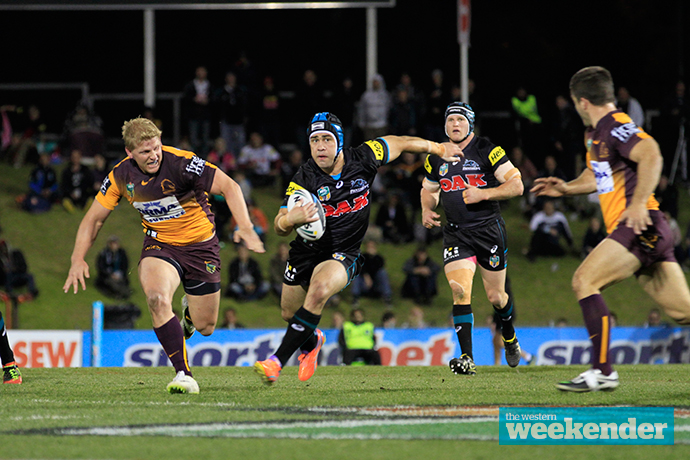 Penrith Panthers five-eighth Jamie Soward says he's happy to be back on the field and believes he should be back to his normal, brilliant self in the next few weeks.
Soward returned during Penrith's loss to the Broncos earlier this month following eight weeks on the sideline recovering from much-needed back surgery.
Soward was in such desperate need of surgery that some mornings he struggled to get out of bed and had numbness in his legs.
"The back is all healed and I'm very happy with how the surgery went. I think in another game or two I should be back to normal but at the moment the body is feeling good," Soward told Extra Time.
"There's no discomfort, I think it was just a matter of getting some match fitness back. I had six weeks there where I couldn't run, I just had to lie down. I got pretty good at PlayStation there for a while."
During Soward's absence, Penrith only managed two wins from six games – proving just how pivotal the former Origin five-eighth is to the club's chances of doing something in this competition. Many of Soward's teammates also often spoke of his importance and what he means to the side.
"Honestly, I don't think it was just me being out. We lost a couple of our older guys and the young guys who came in did an outstanding job with the tough situations they were put in," Soward said.
This Friday night Penrith will be looking for back to back wins when they return home to take on the Parramatta Eels.
The Battle of the West blockbuster always draws a huge crowd to Penrith Stadium, with players, this week, finding it hard to contain their excitement.
"The buzz around the sheds this morning is something else," Soward said.
"It's a really nice vibe around town at the moment too. I think the excitement of getting players back and a Friday night game brings that."
– Nathan Taylor