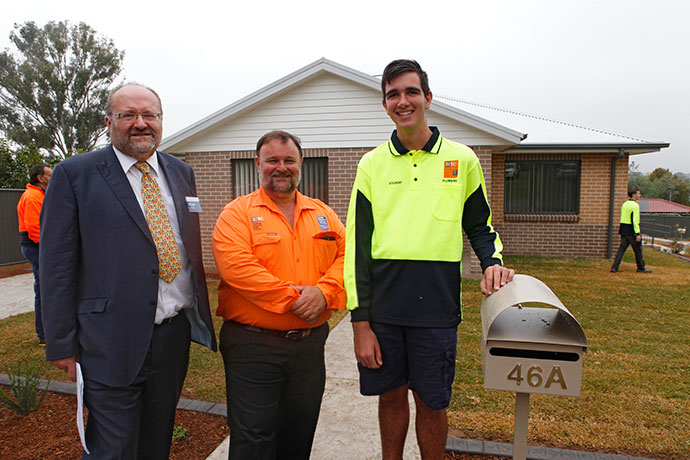 TAFE Western Sydney student and Penrith resident Andrew Tomkins has just spent the last three months building a duplex, all in the hope to find full-time work.
Mr Tomkins is one of 81 carpentry and plumbing students involved in the seven month long construction of a duplex in Cranebrook, that is now finished and open for families to move into.
"I did it for a couple of months and I started because I wanted hands on experience to start my career in plumbing," Mr Tomkins said.
"It's pretty much all about your experience, on what you know about plumbing, with all the pipes and what you have to do from a water tank to the bathroom – how it operates and works through."
The project's manager, Andrew Jones from TAFE Western Sydney said several TAFE classes were involved in the construction, with a good portion of them gaining work from it.
"We are constantly rotating students to get employment otherwise we are running out of students because they are getting jobs, if we don't keep bringing on new students we would have nobody to help us," he said.
"They're going pretty good with finding jobs. This particular group here, 50 per cent of the plumbers have got employment as first year apprentices.
"The whole aim is to get these kids jobs, that's the bigger picture."
Mr Jones said most students in the program are studying carpentry or plumbing, but are being exposed to further trades in the industry during their experience.
"So there's 81 involved, and roughly 45 carpenters, and the rest are plumbers and we've had one full Indigenous class come through," he said.
"It's not only just about carpentry or plumbing it's about opening your mind to what the industry is about."
TAFE Western Sydney Institute Director, Robin Shreeve spoke to the students and highlighted their efforts over the previous months.
– Dale Drinkwater