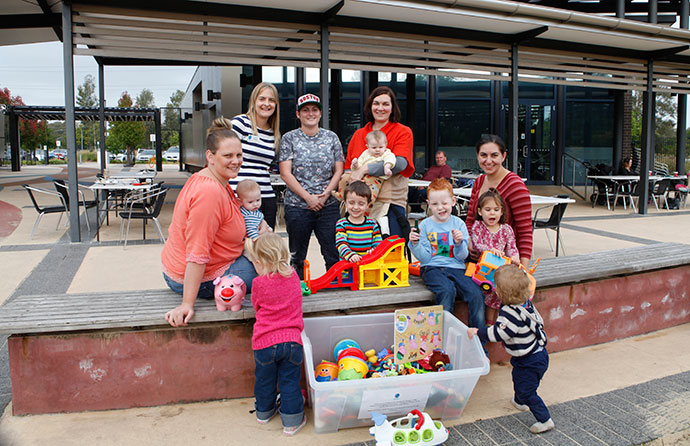 Paying it forward to their local cafe, parents from the Nepean area have donated children's toys to Sapphire's Cafe in Glenmore Park.
Members of the Australian Breastfeeding Association's Nepean group made a special presentation of donated toys to Sapphire's Cafe and owner Jenna Vicary on Monday.
Meeting on the first and third Monday of the month, the group often have Sapphire's as their meeting place, somewhere they consider to be family-friendly.
"Jenna has always had a little corner of the cafe sectioned off for the babies and toddlers with toys, but over time they have slowly disappeared," volunteer breastfeeding counsellor, Nicole Bridges said.
"Donating the toys was a great way to move them on to a new home, especially from my family where my kids are a little bit older now."
After putting a call out for toys on their closed Facebook group, several mothers responded wanting to give something back to the cafe.
"It's an awesome thing and really nice to know when someone notices the work you do for them," Sapphire's Cafe owner, Jenna Vicary said.
"It's good because I do a lot for them and then they have done this for me, so it's a really good feeling and a nice situation to be in."
Anyone is able to join the mothers group that is run by the Australian Breastfeeding Association, for a fee, or you can try it out first.
The group also go out to dinner, have movie days as well as nights out for the parents.
Ms Bridges said it's a great way for mothers to connect.
"Being a part of the group is a rewarding experience for all the mums," Ms Bridges said.
"Nearly all the women who come along to a meeting join up to the group as they enjoy all the social things we do."
The theme for this year's National Mothering Week was 'Support, Encourage, Inspire'.
It was this theme that inspired the gift giving exercise at Sapphire's Cafe.
"Following with the theme, the group thought this could be our way to 'pay it forward' to Jenna and the Sapphire's Cafe," Ms Bridges said.
Sapphire's Cafe is at 1/31 Blue Hills Drive in Glenmore Park.
– Jade Aliprandi