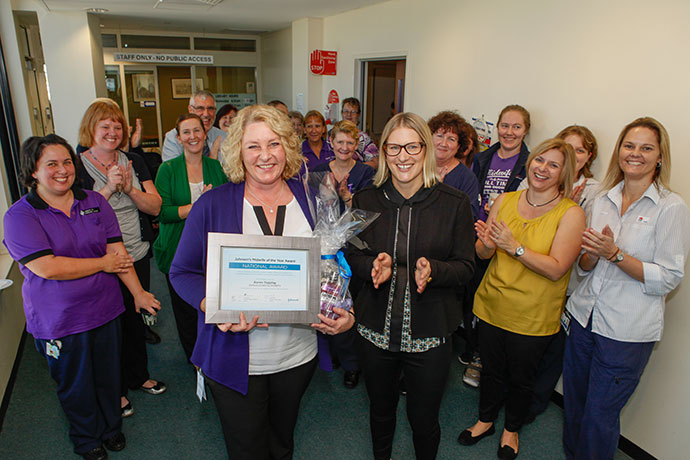 Not only did midwife Karen Topping receive the State award for Midwife of the Year but she also received the National award for her excellence in midwifery in 2014.
With a presentation held on International Day of the Midwife this week at Nepean Hospital, Ms Topping received both her Midwife of the Year awards and said she felt it was for all her fellow midwives and her colleagues.
"I feel very honoured and very privileged but I really am just one of many midwives who deserve this award," she said in her acceptance speech.
"I hope this award can be considered as a reflection of the midwives at this hospital."
Johnson and Johnson National Sales Manager, Kacey Meddings presented Ms Topping with a plaque and a $500 educational voucher.
"I would like to congratulate everyone here on their career choice," Ms Meddings said in her presentation.
"Thank you all for the contribution you make in your line of work."
The midwives at Nepean Hospital were then given a morning tea to help celebrate with Ms Topping.
Ms Topping said of her 25 years as a midwife she enjoys the experience she has with each new mother.
"Being around for the whole experience, from pregnancy through to the birth is amazing," she said.
"If you love your job it shows, and I love my job."
The mother who nominated Ms Topping for the award, a young Irish woman, Bridget Byrne, said she was thankful to have had a great midwife.
"The system is different here and it was scary not knowing what to do," she said.
"I wasn't used to midwifery but Karen took me on as she was available around the time my baby, Callun, was due to arrive.
"She was the only one I dealt with and she was always available for me and said I could text her if I had questions – she was just really good."
Nepean Hospital was also gifted with a $500 educational voucher to spend on educational books or tools.