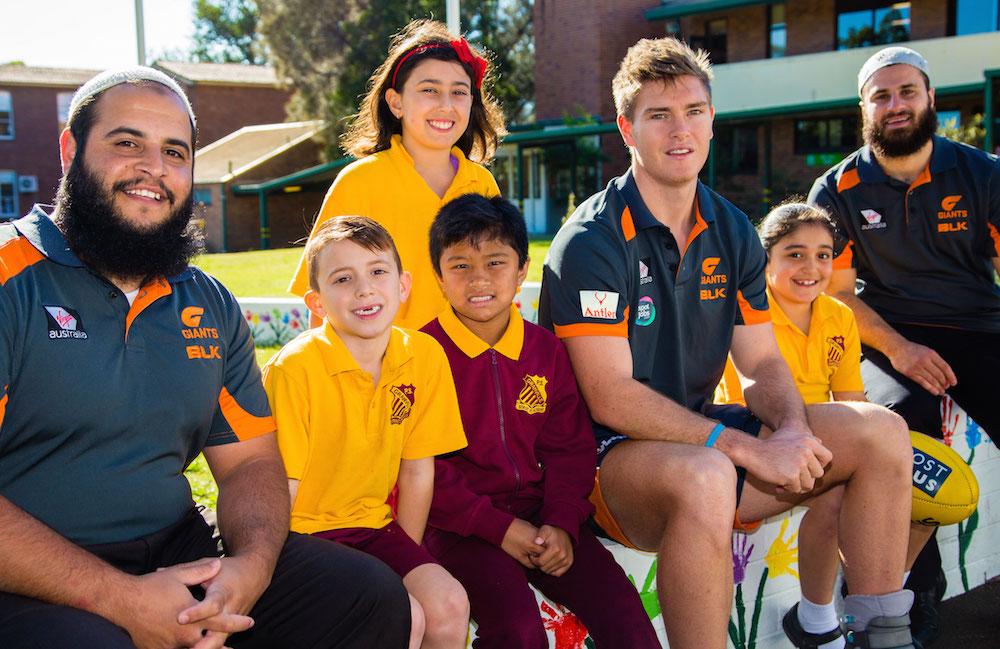 The Greater Western Sydney Giants have launched a major community initiative that will see the club double its community outcomes and further enrich the lives of people in western Sydney.
Giants Care is an innovative and meaningful community initiative like no other program run by a sporting club across Australia.
Now in their fourth year in the AFL, the Giants have quickly become a leader in the community delivering first class programs to those that need them most.
Giants players commit 4200 hours to the community every year and the club is dedicated to helping deliver a wide range of programs that will make a significant impact on those involved.
Some of Australia's most respected organisations with a like-minded vision for the western Sydney community have joined together to make Giants Care possible.
The Giants are proud to announce the eight foundation partners of GIANTS Care are Lend Lease, Virgin Australia, ANZ, Linfox, Origin, Oxanda, UWS and News Corp Australia.
These partners have made a three-year commitment to Giants Care to help double the club's community engagement outcomes which will impact positively on current and future generations.
Giants Care will provide the vehicle to help deliver on the four key pillars of the club's community agenda which are: Health, Harmony, Education and Employment.
This initiative will cover key areas including social cohesion, numeracy, literacy, health, environment, science, nutrition, youth employment and leadership.
Giants Care programs will focus on people from low socio-economic backgrounds and disadvantaged communities across western Sydney.
These programs will make a material difference in the communities that need them most. More than 12,000 people were engaged in Giants community programs in 2014 and thanks to Giants Care this figure will double to 24,000 over the next three years.
Lend Lease Chief Executive Steve McCann said it was a great initiative.
"We are proud to be partnering with the Giants on such an important community initiative," he said.
"Lend Lease has worked extensively with the Giants on a range of community programs and we are excited about this next step.
"Giants Care will make a meaningful difference to the communities of Western Sydney and we look forward to being involved in a variety of innovative programs."
Giants Chief Executive David Matthews said the concept wouldn't be possible without the significant investment made by the eight foundation partners.
"We are proud of the work we do in the community and Giants Care will see us take this to a whole new level across western Sydney," he said.
"We want to build a great club like no other. A club that wins premierships, delivers the best family entertainment and enriches the lives of people across Western Sydney. Giants Care is a key part of this."