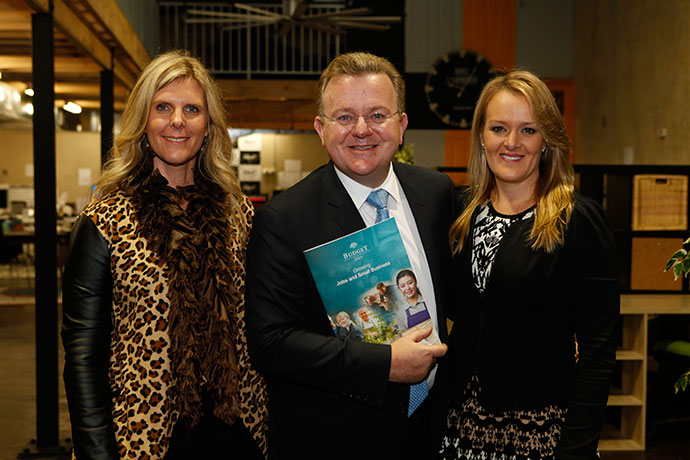 After big announcements for small business in the recent Federal Budget, Minister for Small Business Bruce Billson visited Penrith on Tuesday to speak with local small businesses.
Mr Billson, accompanied by Member for Lindsay Fiona Scott, listened to business' concerns over superannuation, paid parental leave, health and politics.
Mr Billson said the feedback he received from small business owners in Lindsay was fantastic, and in particular how they felt the Government has interacted with them.
"I got fantastic feedback about areas that are causing grief and challenges for businesses. This gives me a 'things to do' list that we can work on and see what improvements can be made," he said.
"You really heard people say 'It's great such a focus and attention has been on us'. 'Us' meaning the small business men and women that create opportunities and livelihoods in the community."
Mr Billson said some of the best insight he received from Lindsay small business owners was about how important it is to continue to elevate small business and family enterprise – what he called "the lifeblood of the economy".
"I found the issue around local procurement, about the way in which opportunities [from] Government in the local area are made quite difficult for local small businesses… that was a really good insight," he said.
In supporting local business, Mr Billson highlighted the importance of consumers using products and services from smaller outlets, and encouraged other small businesses to do the same.
"Shop small, shop local, get behind your own economy if you're looking for this economy to get behind and support you," he said.
"We don't just want a fair go for the west, it should be about how the west is going to win."
Debbie O'Connor, owner of The Creative Fringe where the forum was hosted, said her business has just made it into the top 100 innovative businesses in Australia, that proves western Sydney's businesses are evolving.
"The Creative Fringe has just made it onto the SMART 100 list… and from what we can see, we are the only Penrith business ever to make the list," she said.
"It means innovation is happening here in Penrith and it's happening right here where people are doing things differently."
– Dale Drinkwater