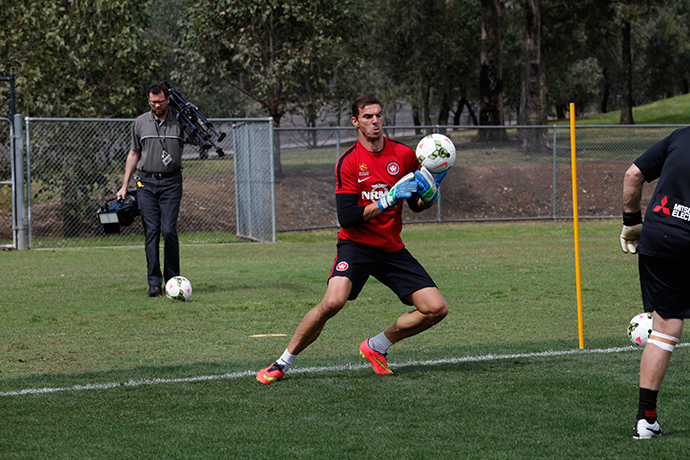 The Western Sydney Wanderers have dropped a major bombshell by announcing this afternoon that 10 players will be cut loose from the club, including foundation goalkeeper Ante Covic.
Iacopo La Rocca, Ante Covic, Jason Trifiro, Tomi Juric, Antony Golec, Nikita Rukavytsya, Kerem Bulut, Nick Ward, Nick Kalmar and Adrian Madaschi have all parted company with the Wanderers following the conclusion of their contracts.
Wanderers CEO John Tsatsimas thanked all the departing players for their contribution.
"The departing players have served this club well and we wish them all the very best in the next chapter of their professional lives," said Wanderers CEO John Tsatsimas.
"The players that helped us to win our AFC Champions League crown will forever be synonymous with this club and embedded in our history.
"In particular I would like to thank our foundation players Iacopo La Rocca, Ante Covic and Jason Trifiro for their contribution to the Wanderers from our inaugural season. These players have served this club with distinction on and off the field – their contribution to the region, to the making of this Club and to our on-field results cannot be diminished."
Goalkeeper and foundation player Ante Covic departs the Wanderers after a decorated three years which saw him win a Hyundai A-League Premiership and AFC Champions League as well as Hyundai A-League Goalkeeper of the Year and AFC Champions League Most Valuable Player.
Covic joined in 2012 after being released by Melbourne Victory and made a record 97 appearances for the Red & Black in the Hyundai A-League, AFC Champions League, FFA Cup and FIFA Club World Cup.
Foundation player Iacopo La Rocca joined the Wanderers from Grasshopper Zurich in Switzerland and scored eight goals in 78 appearances for the Red & Black. His honours during this time included a Joe Marston Medal, a Hyundai A-League Premiership and an AFC Champions League title.
"After three years it's time to start a new challenge," explained La Rocca.
"I would like to say thank you to everyone, all the supporters, my teammates and the staff. In just three years we achieved something special not just for the Wanderers and Western Sydney, but for all of Australia."
WATCH LA ROCCA'S FAREWELL VIDEO HERE.
Midfielder and foundation player Jason Trifiro signed for Wanderers from South Melbourne in 2012 and played a total of 49 matches for the Red & Black in all competitions.
Forward Tomi Juric joined the club from Adelaide United in 2013 and scored on his debut match against the Mariners. 51 matches and 17 goals later and Juric has etched his name into Wanderers folklore forever with a number of big game goals, none more so than his winner in the AFC Champions League Final.
"It is definitely a place I'll keep close to my heart and I'd like to thank everyone for their time and support over the years and hopefully it is not the last time I will be in the Red & Black," said Juric.
WATCH JURIC'S FAREWELL VIDEO HERE.
Antony Golec joined Wanderers for their inaugural AFC Champions League campaign and played a total of 37 matches, including both legs of the AFC Champions League Final.
"My time at the Wanderers has been fantastic, I've loved every minute of it. To leave as an Asian Champion is something that probably won't happen again outside of this club," said Golec.
"Moving on was a tough decision to make and I had a few sleepless nights but I'm grateful I got to play for such a prestigious club. I made many friends from the staff and players who I'll remain close with."
WATCH GOLEC'S FAREWELL VIDEO HERE.
Forwards Nikita Rukavytsya (28 appearances, 4 goals) and Kerem Bulut (13 appearances, 6 goals) both signed for the 2014/15 season with Bulut joining in January.
Nick Kalmar (13 appearances, 2 goals), Nick Ward (1 appearance) and Adrian Madaschi all joined the club as injury-replacement players during the season with Kalmar also taking part in the club's 2015 AFC Champions League campaign.