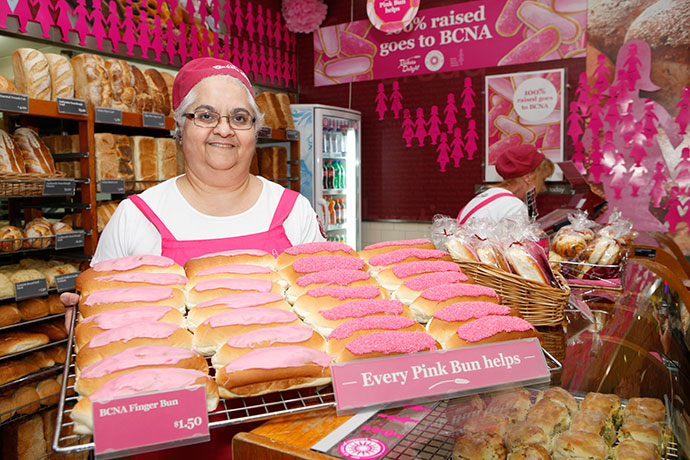 To celebrate 15 years of supporting the Breast Cancer Network Australia (BCNA), local bakers are banding together to collectively raise $1.5 million for the organisation.
Bakers Delight Nepean Village is just one of 600 stores in Australia who have until June 3 to raise the funds for the BCNA's unique support services.
Yasmin Bhesania has franchised the bakery for the past 17 years, and said there is so much support for the cause, they sell out of the 150 finger buns they bake every day.
"This is one of our major promotions of the year and it's for such a good cause – we sell out every single day," she said.
"We do it every single year. Our store raises anywhere between $1100 to $1500 every year alone, and as a company as a whole we have raised over $15 million by now.
"Every single cent that we raise through Pink Ladies, merchandise, gift cards and all the pink finger buns goes straight to the BCNA."
15,000 people are diagnosed with breast cancer every year.
Ms Bhesania said the money raised will go towards providing vital ongoing support for them.
"The money doesn't go toward breast cancer research, it goes toward helping the breast cancer sufferers," she said.
"It provides the My Journey Kit that contains information on support services, and the meeting that helps them connect with others."
The BCNA hands out over 12,000 My Journey Kit information packs a year – a shocking statistic that indicates the number of people newly diagnosed with the cancer each year.
Last year, over 84 per cent of newly diagnosed Australian women received a kit free of charge.
BCNA Chief Executive Officer, Christine Nolan said they have now delivered a total of 100,000 kits.
"This impressive milestone would not have been achieved without the ongoing generosity of Bakers Delight franchisees, staff and customers," she said.
Breast cancer is the most common cancer in Australian women, with 42 diagnosed every day and more than 2700 Australian women lose their battle against it yearly.
For more information on the BCNA, visit www.bcna.org.au.
– Dale Drinkwater