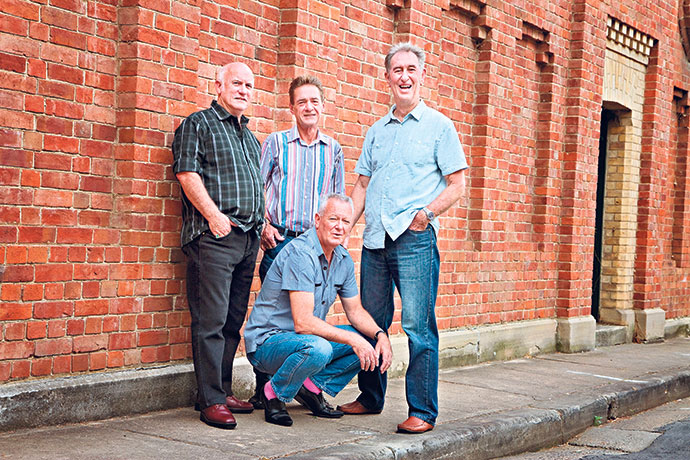 When I got on the phone to The Delltones frontman Ian 'Peewee' Wilson – aka the Beanpole of Bop – he had just come back from a performance in Sydney over the Easter long weekend. Though most would resent having to work over the holidays, Ian says, to him, none of his time with The Delltones has ever felt like work.
"I haven't done a day's work for 56 years," he said.
"Every day's a holiday for me more or less."
The Delltones originally formed in 1958 when four members of the Bronte Surf Club – Noel Widerberg, Brian Perkins, Warren Lucas and Ian 'Peewee' Wilson – got together to dip their toes into the pop/rock music scene.
"I was 18 at the time and most of my friends and my contemporaries were all listening to pop music and rock and roll so we become infatuated," Ian said.
Their harmonies and fun, entertaining stage presence led the group into a genre known as doo-wop.
"We were listening to doo-wop music, the vocal groups that were coming out at the time, and it seemed like a damn good idea for us because all of us hated work," he said.
"We just didn't want to work, so we thought this is one way of getting out of work. And we knew that pop stars were attracting chicks, so it was a no-brainer," he laughed.
During the early years the group found a mentor in rock and roll singer, iconic performer and 'Wild One' Johnny O'Keefe.
The Delltones were given the opportunity to appear on Johnny's show 'Six O'Clock Rock' along with a host of other contemporaries
"Johnny was like a magnet, he was just an attractive dude and also quite eccentric. And I think he just seemed, to all of us, as somebody who knew what he was doing," Ian said.
"He was a charismatic performer and it was just exciting to be around him."
Local audiences will have the chance to experience the fun and energy of The Delltones live when they appear at the Evan Theatre at Penrith Panthers on Saturday, May 16. The show will start with unplugged versions of some of their classic tracks including 'Come a Little Bit Closer', 'Get A Little Dirt on Your Hands' and 'Hangin' Five'. The second half of the show will be dedicated to the band's revival in the mid-80's and will include tracks like 'Get A Job' and 'Mr Bassman'.
When asked why he thinks The Delltones have sustained their music career for so long, Ian believes it is simply all about the music.
"I think there's always going to be an affection for this type of music that more or less started it all," he said.
"It's infectious music in the sense that it's lighthearted, it's aimed at the heart and the feet."
He also admits that their resurgence in the 80's helped The Delltones gain popularity with a new, younger audience.
"In The Delltones case in particular we've been very fortunate because not only do we have an audience from that late 50's, early 60's period in the development of Australian pop, but also because The Delltones had a revival in the 80's with a revival album called 'Bop Til Ya Drop' that did very well," he said.
"We found ourselves on shows like 'Hey, Hey It's Saturday' and 'The Midday Show' and we become a bit of a fad at the time, and I think that brought on a whole new audience for us.
"I think that's sustained us through to today. We've been very fortunate, and I'm humbled by that fact that The Delltones after all these years, over half a century, are still working and we still have an audience. It's something that's just addictive for me."
The Delltones will be performing at the Evan Theatre on Saturday, May 16 at 8pm.
Tickets are $40. To make a booking or for more information visit www.penrith.panthers.com.au or call 4720 5555.
– Kate Reid