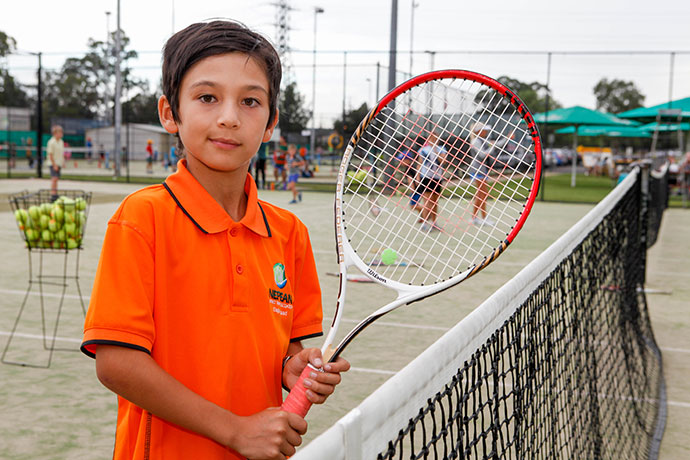 His coaches may call him "soft hands" because of his unbelievable volleying ability at the net, but there's nothing soft about this 10-year-old local tennis sensation who plays hard every single time he steps out onto the court.
Currently in Year 5 at St Mary Mackillop Primary School in South Penrith, Oscar Too is enjoying a great start to his relatively short tennis career.
Late last month the Penrith resident was crowned back-to-back champion in the U10 Nepean District Tennis Association Tournament at Woodriff Gardens, and just last weekend he finished runner-up in the Tennis Australia Hot Shots Carnival Sydney Metropolitan Playoffs held at Sydney Olympic Park.
Making Oscar's achievements on the tennis court even more remarkable is the fact that he suffers from the neurological disorder, Tourette syndrome.
Oscar's condition affects his vision on court through eye twitches but that hasn't stopped him from being one of the best young tennis players in his age group.
Oscar's game also comes complete with a mean serve, which has been clocked as fast as 116km per hour.
He believes his forehand, volley and serve are his signature moves on the tennis court.
"I've been playing tennis since Year 2 and I love it because you get to do really big hitting," Oscar said proudly.
While tennis is his main focus, Oscar doesn't mind dabbling in other sports as well.
"I play tennis twice a week but when I'm not playing I'm usually at the park with a friend kicking the soccer ball around or playing cricket," he said.
With champions like Swiss master Roger Federer and Australian tennis ace Nick Kyrgios as his idols, there's a good chance we could be hearing the name Oscar Too for many, many more years to come.
– Nathan Taylor