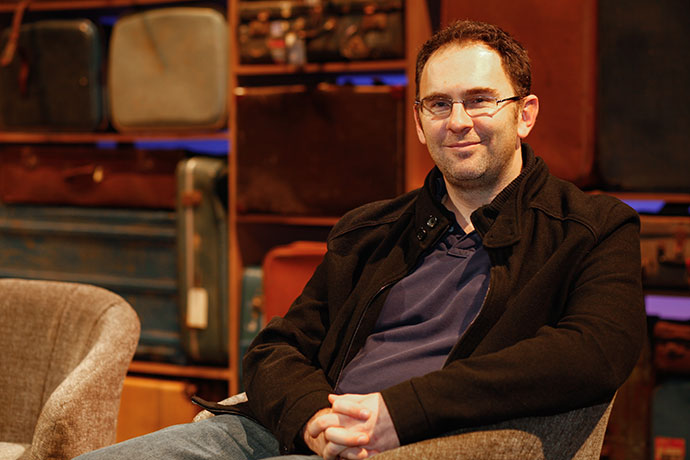 When the Emu Heights Theatre Company opened in 2010 its first show was a production of 'The Shoe-Horn Sonata' by John Misto. Returning to The Joan stage this month the classic Australian play will also mark the final performance before the company takes an indefinite production hiatus.
As is all too common in the arts world, the Emu Heights Theatre Company has fallen victim to a lack of funding and personnel after five years of delivering quality theatre to the local area.
"We need the business expertise and the funding basically, because it can't run the current way that it's running and operating," Ian Zammit (pictured), Artistic Director of Emu Heights Theatre Company said about the decision.
The company will be placing all productions on hold for at least the next two years to allow time to put together a business plan and seek out support from stakeholders who can help with resources and funding.
"It's a bit reflective of the times because there's a lack of funding from the state towards arts and particularly towards infrastructure," Ian said.
"We're not talking about bricks and mortar, we're talking about paying artists, that's what's needed. And paying business managers, project managers, that kind of thing, to be able to run businesses."
While it's clear that there's no shortage of talent in the Penrith area, Ian believes that it will take a change in attitude and an element of risk to ensure that the arts scene continues to flourish.
"I think that attitudes right from the top need to change in terms of seeing western Sydney as a vibrant and artistic cultural place," he said.
"It's actually identifying that there's such amazing multicultural life and wonderful artists who are living out here and already doing things.
"There's a sense of risk and we're a very risk adverse society. We need to actually be able to take a risk on those artists who can do this kind of thing and put the money to them."
Ian also feels there's a lack of understanding that support for the arts means more than just short term solutions.
"For us it's taken five years to get to where we are today," he said.
"It takes time to build audiences, for people to understand what we do and what kind of arts we do and where we were going. So a risk can't be something that's one off, this takes long term investment."
Though the future is uncertain the Emu Heights Theatre Company is looking forward to once again bringing 'The Shoe-Horn Sonata' to local audiences during its run at The Joan from Friday, April 24 to Saturday, May 2.
"It's the most amazing Australian play about two women who survived the POW camps in WW2," Ian said.
The story takes an emotional look at the horrors of war and the importance of freedom, mateship and music.
Due to its inclusion in the Year 12 English HSC curriculum, the Emu Heights Theatre Company will also be putting on four performances for local school students.
"It's important for kids to see the shows that they're studying," Ian said.
"It's just not the same trying to read it off a page."
Ultimately Ian hopes that the company's third production of this heartfelt Australian story will not only entertain audiences but also attract interest from parties who are passionate about supporting the local theatre industry.
"We want people to come and see the show and go 'wow, that's possible'," he said.
"Fingers crossed something can grow from this."
The Shoe-Horn Sonata will be on at The Joan from Friday, April 24 till Saturday, May 2. Tickets are $25-$35. For more information or to purchase tickets visit www.thejoan.com.au or call 4723 7600. Those interested in supporting the Emu Heights Theatre Company can contact Ian Zammit at [email protected]
– Kate Reid