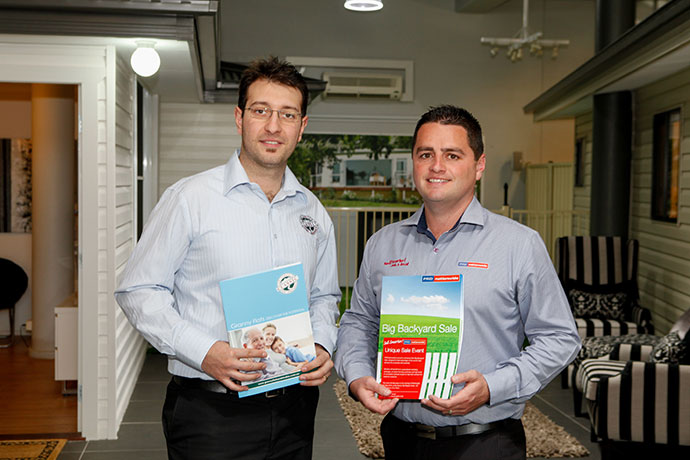 Does your property have the potential to be built on?
If so, then PRDNationwide Penrith's unique Big Backyard Sale is just the event to sell your property and get the most out of your sale.
PRD's Daniel Latty said the event will help vendors achieve the maximum outcome for their sale by taking advantage of increased competition, a chronic lack of properties and desperate buyers – but you need to be in it to win it.
"We are meeting so many investors who are out of the area, but who are looking to buy property in the Penrith area that has bigger blocks to build that dual accommodation with the granny flat," he said.
"We were getting huge competition from buyers… so we wanted to do an event that was going to allow our vendors to get the maximum chance at getting the maximum outcome, and we are still taking placements for other vendors who want to get involved."
Mr Latty said in conjunction with Ian Cubitt's Home Improvements, the Big Backyard sale is designed to remove any doubt or questioning from buyers about whether additional homes can be added to the properties in question.
"Ian Cubitt is coming on board and is going to be offering feasibility studies which we can provide to buyers showing what can be done on those properties, removing that risk and doubt from the buyers," he said.
"By removing that risk it's going to attract more buyers which will be more beneficial to the vendors by creating competition."
Vendors in the event will have access to a range of special services from PRD, including a free granny flat feasibility study, a free inspection report, three open inspections, a 16 page custom information booklet and ongoing local media advertising.
"There's three weeks of heavily accelerated marketing, and because we are going to have quite a few properties we will have a much broader campaign than we would normally run," Mr Latty said.
Buyers will even be able to access the auction and bid via online broadcast, but Mr Latty still recommends to attend the event on Wednesday May 20 to get the best outcome. The number of properties in the auction day is rising, so get in before applications close on April 27 by calling Daniel Latty personally on 0417 047 458.
– Dale Drinkwater