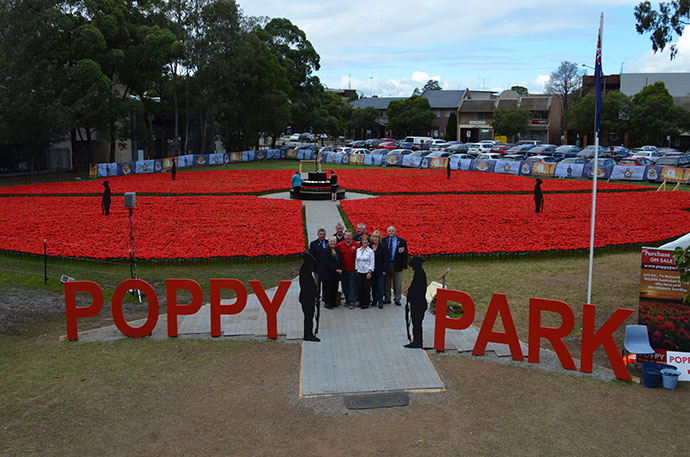 This Saturday's ANZAC Day commemorations in Penrith will be bigger than ever, with the Penrith RSL Sub-Branch expecting big numbers at Memory Park.
The introduction of the inaugural Poppy Park this year has played a big part in the lead-up to Saturday's Dawn Service.
RSL Sub-Branch members greeted Penrith CBD Corporation members, Poppy Park co-founders and Penrith Councillors at Poppy Park earlier this month to discuss plans for the big day on Saturday.
Penrith RSL Sub-Branch President, Mick McConnell, said the importance of ANZAC Day is huge as the Sub-Branch continues to look after the country's ex-service personnel and their loved ones.
"ANZAC Day is the biggest event for us and we are expecting a lot more people to attend this year's Dawn Service," he said.
"Poppy Park just enhances this tradition we have, it's fantastic. You see a lot of people coming backwards and forwards and it's full of positive comments."
Mr McConnell highlighted the sheer amount of lives lost in World War I, which takes up over half the number of the remembrance poppies in the park.
"102,804 all up and I think the first World War was something like 66,000 lives lost," he said.
Penrith CBD Corporation CEO, Gai Hawthorn, said ANZAC Day is a particularly important day for Penrith.
"The Dawn Service this year, being the commemorative centenary, is a special one for Australia and especially Penrith with the Poppy Park tribute within a block from the memorial," she said.
"There will be a special Dawn Service with two screens so everyone will be able to see and hear the ceremony, including renowned singer Nicki Gillis who is leading the National Anthem."
Ample parking will be available at Judges Car Park with Ms Hawthorn suggesting alternative parking behind Allen Place.
"I suggest if you intend to park in the Penrith RSL car park that you enter via Lethbridge Street because the Tindale Street entrance will be closed until after the ceremony," she said.
"Anyone attending should arrive from 4.30am, as the march starts at 4.45am and will go down High Street from Castlereagh Street into Woodriff Street and Memory Park."
Screaming Beans Cafe will open from 4am, and will have a kiosk at the site alongside an Outback Steakhouse kiosk. Penrith RSL will be open for breakfast and lunch.
– Dale Drinkwater