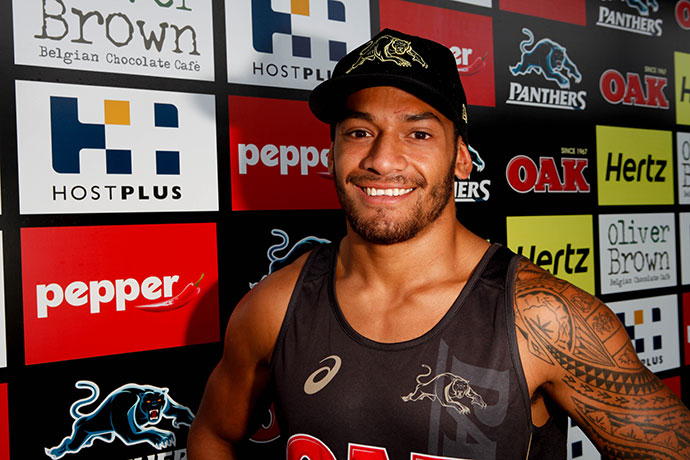 Apisai Koroisau has made a name for himself in recent times as being the ultimate fill-in.
Last October he famously filled in for suspended South Sydney hooker Issac Luke in the 2014 Grand Final, while last weekend Koroisau made his Panthers debut filling in for injured dummy half James Segeyaro.
Speaking with Extra Time on Tuesday morning, the 22-year-old admitted that he doesn't mind being called upon at the last minute and always keeps his phone off 'silent' awaiting that next call.
"I just shape my mentality to do what I need to do for the team. The team comes first and I really don't mind filling in, to be honest," Koroisau said.
"When Ivan called me up last week saying I needed to play because James hurt his lip, my emotions started running pretty high. I was really excited and ready to get out there.
"I'm really enjoying myself at Penrith at the moment which helps with not playing first grade each week. I'm happy."
After 14 first grade games with South Sydney, including one Grand Final, Koroisau left the Rabbitohs a premiership winner and joined the Panthers on a two-year deal this season.
Koroisau said he often reflects on his time at the famous Redfern club but will never regret leaving for an opportunity out west.
"To an extent I do miss the place, there's only so many times you're going to win a Grand Final with your team and I was fortunate enough to do that," he said.
"I really do miss the boys and what we went through that year but, at the same time, I'm moving on and really enjoying myself."
Koroisau said both clubs have their similarities and differences but one thing he loves most about his time at Penrith is, oddly, the training.
"It's fun," he admitted.
"They throw in a lot of games, you get a lot of days off to rest and they look after me well here, I really appreciate that.
"I've only been here five or six months but it's been amazing. I've already had one opportunity so far and I'm still looking to learn and progress my skills. Hopefully I can do that here."
Barring injury or poor form to James Segeyaro, Koroisau will most likely play most of his first season at Penrith biding his time in the NSW Cup, but one thing's certain, when his number is called, he'll be ready.