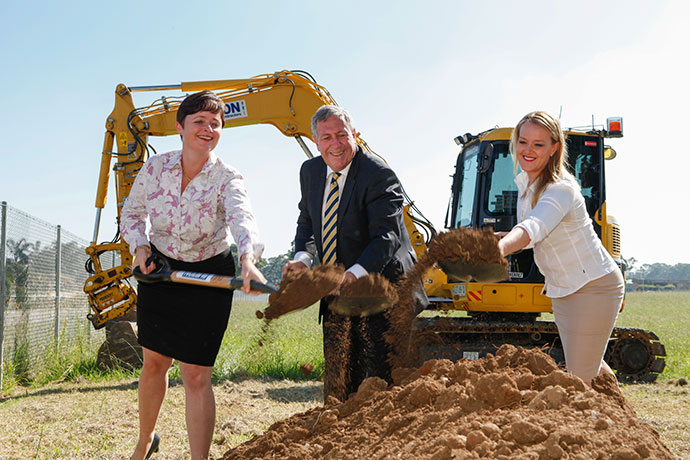 Passers by were pleased to see the first mound of soil turned at the site of the $70 million Werrington Arterial Road upgrade that marked the beginning of construction.
State Minister for Roads and Freight, Duncan Gay met with Federal Member for Lindsay, Fiona Scott and Liberal Member for Mulgoa, Tanya Davies at the Gipps St site on Monday.
During Mr Gay's announcement, a black four-wheel-drive drove past and honked, and its passenger yelled, "it's about time!".
Mr Gay was not surprised and said it's not the first time he has heard "about time" as this project is very important to the community.
"About time. You hear that? I hear that all the time. Get on with it, it's about time and that epitomises what we are doing," he said.
"This one is about congestion, it's about people getting home sooner, and it's about safety and about relieving pressure on other roads east of here and west of here."
With a benefit to cost ratio (BCR) of almost 4:1, the project is expected to generate economic benefits almost four times the initial investment.
"If we get a one or a one plus, that's pretty good and a project will go ahead. 4:1 is an exceptional BCR and just indicates how important it is to the community," Mr Gay said.
Ms Scott is pleased to see works were beginning only weeks after the announcement of Burton Contractors Pty Ltd as the preferred tenderer, so western Sydney can get closer to securing 12,000 new smart jobs.
"The Australian Government is getting on with delivering key infrastructure projects in Lindsay and I am pleased to see major investment in road projects creating thousands of jobs in the western Sydney region," she said.
Ms Scott said the Penrith Business Alliance estimated projects such as the Werrington Park Corporate Centre and the Dunheved Business Park will deliver 6,000 smart jobs each to the region.
"That's 12,000 smart jobs the Werrington Arterial will provide, this is why Tanya [Davies] and I have fought so hard for this," she said.
Ms Davies pushed for the project since her days in Council, and said the project will also relieve congestion at Mamre Road and The Northern Road.
– Dale Drinkwater