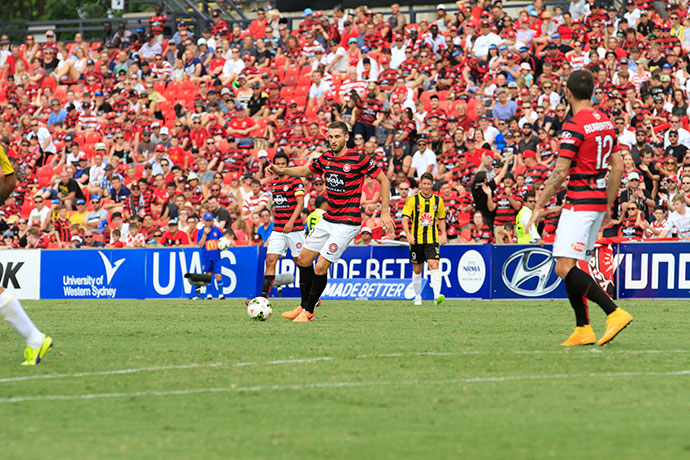 What a difference a year makes.
12 months ago the Western Sydney Wanderers were battling the Brisbane Roar for top of the table Premiers Plate honours. On Saturday, they'll be going head to head with Newcastle to avoid the spoon.
The Wanderers and Jets are currently sitting in positions nine and 10 on the A-League ladder, with 11 points apiece. However, the Wanderers have the slight edge with two wins on the board to Newcastle's one.
On the two occasions these sides met earlier in the season, both games ended in 1-1 draws. Therefore the winner out of Saturday evening's clash at Pirtek Stadium could put themselves in a good position to avoid the dreaded spoon.
Last Friday night in Parramatta, the Wanderers continued to pay the price for their success in recent times, going down to a strong Melbourne Victory side 3-0.
Melbourne's Besart Berisha was once again Western Sydney's arch nemesis, scoring two goals on the night.
Wanderers coach Tony Popovic said Melbourne punished his side.
Western Sydney's clash against the Victory was their seventh game in 20 days, which includes A-League and AFC Champions League fixtures.
Popovic continued to blame scheduling and injuries for his side's unfortunate demise.
"This is our seventh game in 20 days… we don't have enough players to rotate, we don't have a 50 man squad," he affirmed.
"Players are injured, they are fatigued."
Popovic said he partly blames the A-League's governing body, the FFA, for not having faith in his club's abilities.
"At the end of the day the FFA never expected us to win a Champions League, for me, that's the bottom line. They didn't expect us to win it because when we came back we had three days and we had to go to Wellington and Perth," he said.
"If you expected or thought 'what if these guys do get into the final', maybe you can help that team out."
Meanwhile, the Wanderers play FC Seoul in the ACL tonight.
– Nathan Taylor