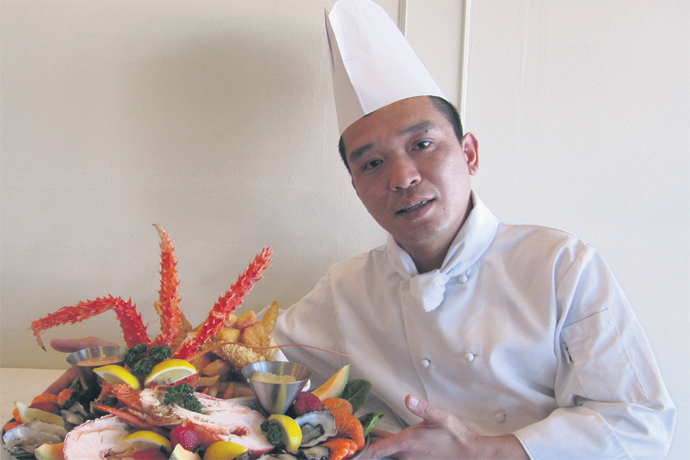 Hi, my name's Vinnie Tran and I am the Head Chef at The White Swan Steak and Seafood Restaurant.
I have more than 15 years experience as a chef and have previously worked at the prestigious Marriott Hotel Group (USA), ALH Group and the Pioneer Hotel.
My famous chef idol is Gordon Ramsay. I decided to become a chef because making dishes is my ambition and nothing is more delightful than seeing my customers enjoying the meals I have cooked for them.
Growing up my favourite type of food to eat was a combination of French and Italian food.
At The White Swan I have a number of signature dishes. One of them is my Seafood Platter – it is simply amazing!
But another dish diners shouldn't leave without trying is our Vietnamese Beef or Chicken Noodle soup.
Our restaurant's price range is very good with prices on dishes ranging from $12 to just $30 to cater to everyone's budget.
And a great special customers should take advantage of is our lunch options for under $10!
Check out our specials and you will always get great value and great variety. We have a very wide selection on our menu so why would you go anywhere else?
To add to the dining experience, the atmosphere at the restaurant is very warm, cosy and romantic and our staff are friendly, young and dynamic, which makes the dining experience all the more memorable.
As one of Penrith's premier function restaurants, our diners are able to enjoy indoor and outdoor function areas, a dance floor is available if needed and you get sensational food that's friendly on the pocket.
The White Swan Steak and Seafood Restaurant is dynamic, relaxed and has the tastiest meals in Penrith!
The White Swan Steak and Seafood Restaurant is now open seven days.
They are located at 269 High Street, Penrith. To book or for more information call 4732 1505 or visit www.thewhiteswanrestaurant.com.au.