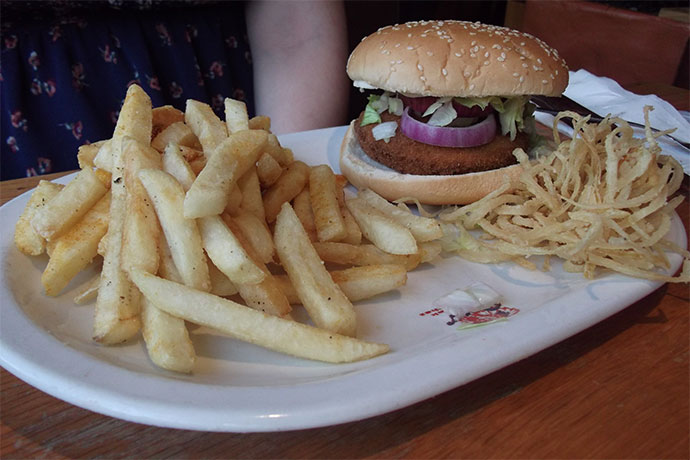 From the moment you walk through the doors of Silver Spur you'll feel at home, with the friendly waitresses stepping forward cheerfully to greet you and provide customer service that's second to none.
The atmosphere is fun and lively, with bright native American themed decor and catchy pop music blaring from the stereo.
If you're a fan of fancy dress then this restaurant is right up your alley with the staff donning their best costumes for a themed dress-up night on the last Friday of each month.
Parents need not worry about boredom or temper tantrums as children are given colouring-in sheets and crayons on arrival.
The little ones will also be in heaven when they enter the specially-made kids' room, complete with TV and game consoles to keep young minds entertained and ensure that the grown-ups can enjoy a quiet, stress-free meal.
A delicious assortment of starters are on offer, ranging from the classics such as cheesy garlic bread to spicier Mexican foods for diners who like it hot. The quesadillas are especially good; they're crisp and golden with the perfect amount of cheese and come with three sauces.
The mains are generously portioned and good value for money, and the menu includes salads, steaks, burgers and more – so there's a dish for even the fussiest of diners. The calorie-conscious will be thankful for the light sides available such as hot vegetables.
If you're looking for an option that's somewhere in between the big juicy steaks and leafy green salads, the Spur club sandwich might be for you. This isn't the average sandwich you'd find in a lunch box – it is filled with grilled chicken, bacon, lettuce and tomato, and is sure to satisfy your hunger.
Even though Silver Spur is a steak house, vegetarians can enjoy their meals too. The crumbed vegetarian burger is tasty, with a filling vegie patty and lettuce, tomato and onion on top. Other meat-free meals include fajitas, nachos and salads.
Most of the burgers come with your pick of a baked potato or lightly seasoned chips.
If all that hearty food hasn't filled you up yet, the tantalising desserts will.
The light and fluffy chocolate mousse served with ice-cream is a delight for sweet tooths and comes presented in a cute sundae glass with a cherry on top.
The crepes are served warm with banana, chocolate syrup and ice-cream to add sweetness and flavour.
With its great food, good value and fun, family-friendly atmosphere Silver Spur is a restaurant worth booking a table for.
To book or for more information, call 4732 1700.