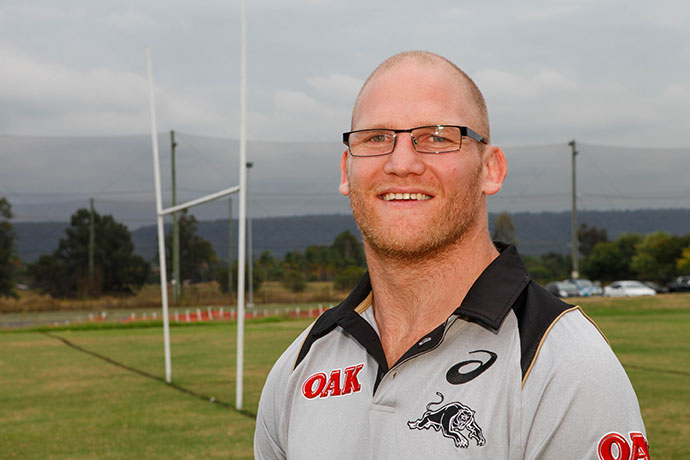 After 11 seasons in the NRL, Panthers prop and fan favourite Nigel Plum will finally hang up the boots at the end of the season.
A premiership would be the ultimate fairytale send off for the soon-to-be 32-year-old but right now Plum is focused on getting back on the paddock after a double ankle reconstruction.
During the recent off-season Plum underwent a reconstruction on both ankles. He was due to return to the field in time for Penrith's final trial against Parramatta in February but suffered an unexpected setback.
"I started running at the start of January and things weren't getting better when we thought they would. There was an extreme amount of pain. I was hoping I could push through it but it was getting worse," Plum told Extra Time.
"I ended up taking three weeks off from running, I changed my diet and the pain is now gone, which is great.
"It's indefinite when I'll be back at this stage but I'm pretty close, I'm hoping in a few weeks. We just have to keep ticking the boxes and going through the processes but I'm not far off."
With Plum's contract with the Panthers expiring at season's end, he made the tough decision during the off-season to announce that 2015 would be his last season in the NRL.
Plum, who grew up in the country town of Wagga Wagga, began his NRL career at the Sydney Roosters in 2005. After 136 first grade games and counting, laying on monstrous hits and carting the ball forward, Plum knew in his heart that the end was near.
"At this stage retirement is the plan," Plum said.
"When I signed a two-year deal in 2013 I was comfortable with this being the end if it turned out that way. I'm at the point where I have a young family and I would love to spend weekends with them.
"It's a bit daunting knowing from November 1 I'm unemployed but it's also exciting knowing the opportunities that are out there."
Plum isn't sure yet what he'll do after football but he always envisioned himself to be a property developer.
"That's the hardest thing, I still don't really know what I want to do – it's like I'm in Year 12 again," Plum said.
"All I ever wanted to do since I was seven was play footy and I have been fortunate enough to do that."
Plum revealed he's been in touch with a few club sponsors about doing work experience and he's even considering becoming a captain-coach of a country rugby league club.
"The future is daunting but I'm excited to start a new chapter in my life," he said.