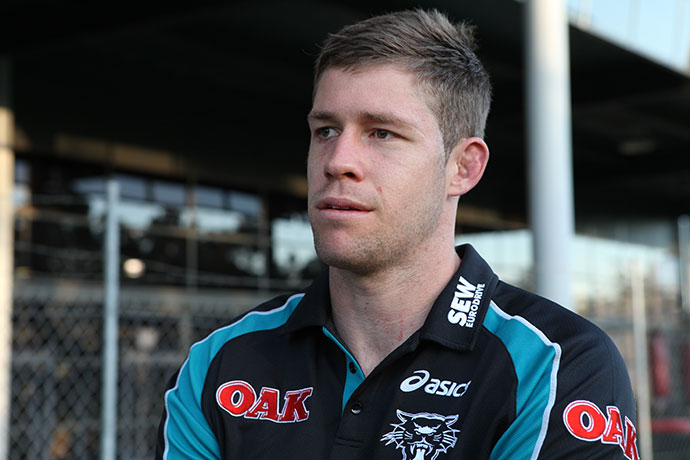 Unsung Penrith prop Jeremy Latimore has all he could ever want.
Not only does he have a very crucial role with the Panthers on the field, but he also has a very important one off it as an upstanding university student and doting dad.
The 28-year-old, who's now in his third year with the Panthers, loves mixing business with pleasure and couldn't love life any more than he does right now.
While most footballers are too busy concentrating on their game and what their hair-dos are going to look like next week, Latimore is quite the opposite.
"I just returned to the University of Wollongong last week to finish off my final five subjects in my Bachelor of Business degree," Latimore told Extra Time.
"I go every Thursday and I'm lucky that everything's on in the same day. My hands are full right now but it's good to keep me active and my mind busy away from rugby league.
"I've also got the young fella as well, so I'm never bored which is cool."
Latimore debuted for the Parramatta Eels as a 22-year-old back in 2009 and went on to play with two other clubs including the Warriors and Dragons.
Since arriving at the Panthers in 2013, Latimore has endured injuries, played in parks in reserve grade and, best of all, played his most consistent footy to date.
2014 wasn't just a breakout season for the Panthers, it was also a stellar season for the man they call "Lats".
Latimore was far and away Penrith's standout prop in 2014, topping the stat sheet in nearly every category.
"I've been around for a few years but I hadn't performed to the level I did last year," Latimore admitted.
"I definitely have good memories of last year and how we went as a squad. We have a lot more expectations on us this season as a team, and even myself, I have some goals this year that I want to achieve like performing every week and being better than last year."
For the second straight season, the Port Macquarie-born forward is yet again in the middle of another contract year. With fellow props Brent Kite and Nigel Plum expected to hang up the boots at season's end, Latimore is hopeful he'll still be in Penrith colours leading where those men left off.
"I just have to start the year well and that [new contract] will sort itself out, they know what I can do now," he said.
"Obviously with Trent Merrin coming next year, that'll be good, I've played with him before at the Dragons. He's a great player to play alongside, so I hope I'm here next year."
– Nathan Taylor