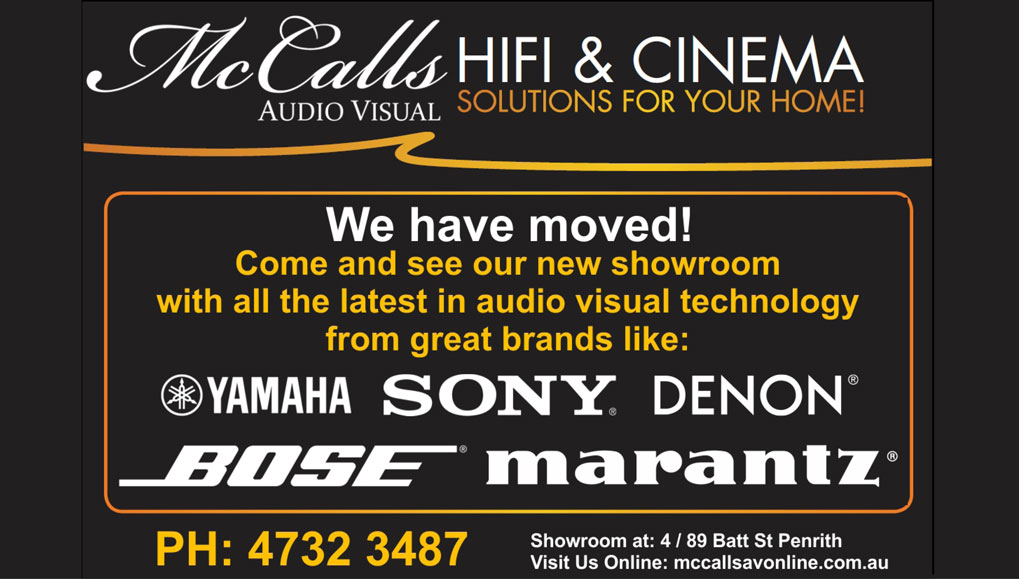 With an enormous range of products available, deciding on a sound and visual solution for your home entertainment system is a challenge, but with the recent opening of McCalls Audio Visual's brand new showroom in Batt Street, Penrith, that decision just got a whole lot easier.
The family owned local business has over 18 years experience matching local residents and business people with entertainment systems to suit their individual needs, and with a new showroom offering the latest and greatest in technologies, the team is even better equipped to do so.
Owner Eric McCall said the new location showcases the best that McCalls has to offer.
"We have expertly designed displays at our new location that show local consumers exactly what each system sounds and looks like. Add to this the newest technologies, including the 360 degree Dolby 'Atmos' systems, and there is no need to look further," he said.
"Our new showroom makes it so easy for customers to compare different products so that they can find the exact system that they are looking for."
There are about a dozen displays at the showroom and customers are able to listen to songs or movie clips on each of them in turn.
Many of the systems on display use brand new technologies, only just released for sale.
"In addition, we can incorporate Wi-Fi technologies that allow the systems to be controlled by your smart phone or tablet," Mr McCall said.
The expert team at McCalls Audio Visual are happy to help local residents with all their audio and visual needs.
So if you've been considering an audio and visual upgrade, or you're just curious about what's on the market these days, don't hesitate to visit the new showroom in Jamisontown.
Visit them in store at Unit 4, 89 Batt Street, Jamisontown or head to the website www.mccallsavonline.com.au