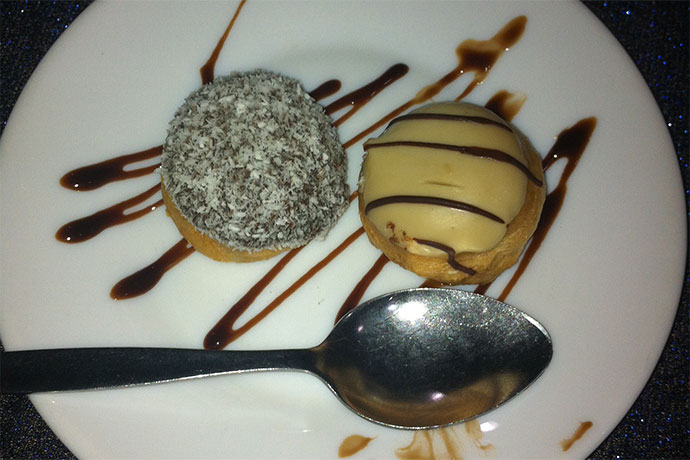 After 35 years in the business, the Major Oak has the proud distinction of being Australia's longest running comedy theatre restaurant. With its tasty food, party atmosphere and hilarious stage show, it's no wonder that it has become such a success.
Tucked away on the second storey above Queen Street in St Marys, it would be easy for passersby to miss the Major Oak, in between the pubs and discount stores. Yet once you enter and go up the stairs, you'll feel like you've been transported to another world.
The Major Oak is modeled on the experience of a comedy cruise ship and decorated to match, with staff dressed up in stripes and Navy regalia. Although the show itself begins at 7.25pm, it's a good idea to arrive early with the Island Bar open and taking orders from 6.30pm.
Their specialty is the frozen cocktails, which come with a cute light-up glass to take home. If you're after great value then the drinks package is perfect – $12 gets you unlimited refills of beer, wine, soft drink or juice.
Lights are dimmed and the curtains go up as the show's star performer Bobby (who co-owns Major Oak with his wife Mary) welcomes everyone aboard and sets the tone with some hilarious and politically incorrect comedy.
The entertainment is a mixture of bold comedy skits and catchy musical tributes with performers adopting the dress and attitude of idols including Robbie Williams, Pink, Cilla Black, Joe Cocker, Elvis Presley and more. The music is performed well with stunning vocals and a rocking four-piece band.
The show is divided into intervals, with each part being followed by a break wherein the next course is served.
Although set menus can often be difficult, each course has a few options available with something to suit all tastes so picky eaters can swap with a friend. The entrees on offer are a tasty serving of lasagne or salt and pepper calamari, with vegetarians able to fill up on a fresh, light salad.
The main meals don't disappoint with generous portions and high quality choices. The chicken mignon is delicious with crispy bacon wrapped around a tender chicken medallion. The other options include grain-fed tender porterhouse steak and chicken breast kiev with homestyle gravy. Non-meat eaters can indulge in a vegetable lasagne that's packed with flavour.
Dessert is brought out after the show and definitely worth the wait. The profiteroles are delectable; topped with sweet icing and filled with rich, melt-in-your-mouth cream. Fruit lovers will enjoy the pavlova.
Step on board the Major Oak for an evening of laughter and good food, Saturday nights at 7.30pm. Bookings: 9623 4850.