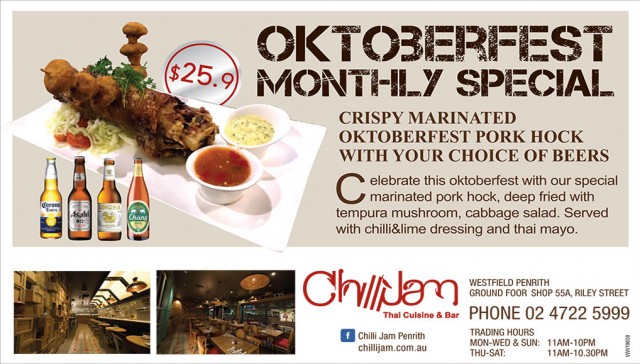 WELCOME TO A NEW ADDRESS OF GRANDEUR AND LUXURY…
Where light and time stays to linger, like delicious memories. Where you hear hushed buzz of platters leaving the kitchen, and the chink of wine poured into glasses. The sizzling kiss of the grill and purr of a wok tossing fresh ingredients.
Suddenly, the moment stands still, perched on a silver spoon, the morsel is lifted, anticipation bubbles as the first bite happens, then world accelerates with joy and passion as vibrant flavours are unleashed, and blow away your senses.
And this menu is our bundle of precious moments, full of first bites and starting sips of dishes full of taste and vibrancy, that fill our soul and add glow. Rich in flavour and traditions, our chef and the team bring food to life, so you can share the wonderful experience with family and friends.
Visit http://www.chillijam.com.au/penrith.php