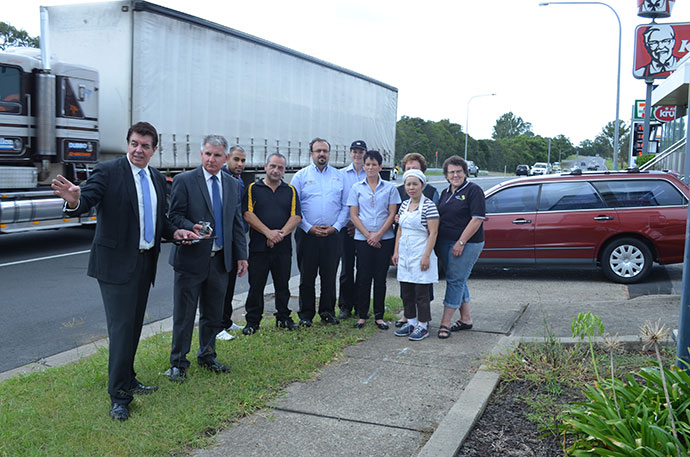 The vehicle entry and exit point at Werrington County Shopping Village has all the ingredients of a recipe for disaster, and Penrith Councillor and Liberal Candidate for Londonderry Bernard Bratusa wants to clean up the mess.

Cr Bratusa invited Parliamentary Secretary for Transport and Roads, Ray Williams to the shopping centre on Dunheved Road to talk to business owners after a record number of accidents in one week.
Cr Bratusa said he was aware of multiple accidents in the area and started to conduct research into the matter.
"That has been a problem for me personally, and as we indicated there are multiple areas that require total concentration and vision," he said.
"There's the bus stop, the traffic turning into the centre, the traffic turning right, there's dual lanes coming at you, dual lanes you're going with, the pedestrian crossing, and additional traffic coming out of the petrol station."
Cr Bratusa said Council's dataset showed between 2008 to 2013 there were 10 accidents in the one site, seven from the Werrington County Shopping Village driveway, and this year, in one week, there were three.
"Penrith City Council has a responsibility and there is a commitment in their 2015/2016 budget for this particular road to be looked at," he said.
Supa IGA's Managing Director, Tony Rizk, said with a speed limit of 70km/h there was a risk to pedestrians and drivers alike in multiple locations in an area with a history of accidents.
"Three last week were all customers, none of them were staff and they were regular shoppers who have navigated the intersection before," he said.
"I'm definitely worried about business. Customers avoid using the intersection so they won't come to the centre."
Mr Williams said the last thing you want to see is a small centre like Werrington County Shopping Village suffer as a result of accidents.
"There's a safety issue, a pedestrian issue, and I'm sure that there's an appropriate traffic design that can be implemented," he said.
"There is now going to be a significant investment in the partnership between both the state and council area to implement the appropriate design out the front which will correct this problem."
Elaine Roberts from Bubbles Florist said she sees children risking their lives to get across the four lanes to the buses.
"They run out in front of traffic to cross the street, there should be a crossing there or something," she said.