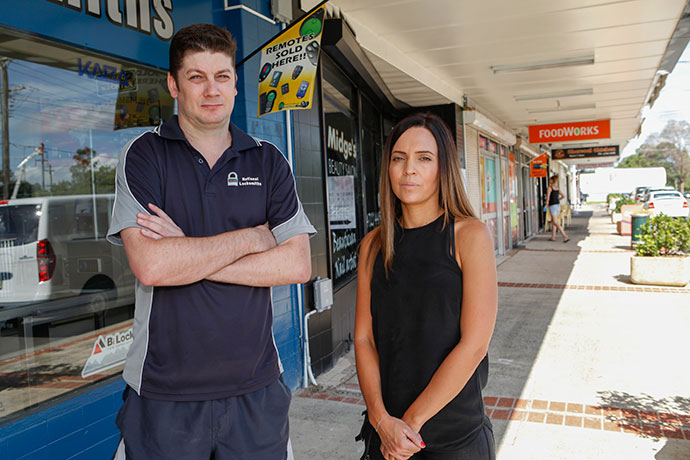 Stafford Street businesses are up in arms after they were notified that their power supply is to be cut for an entire day this week, leaving business owners with no option other than to close their doors and cease trading for the duration of the outage.

Business owners were given two-weeks' notice that their power was going to be interrupted for upgrades to the system between 8am and 4pm on Wednesday, February 18, and that any inconvenience, damage or loss incurred would not be compensated.
"There are more implications that need to be considered – you can't just say 'we are going to turn your power off' and leave us with no alternative," said National Locksmiths Penrith owner, Brett McVea.
"I am angry because I am set to lose a couple of thousand dollars worth of trading in one day. I still have to pay staff for the day."
Rachel Bray has owned Midges Beauty Salon on Stafford Street for 14 years and has never experienced a power interruption before, saying that upgrades usually take place at night.
She has elected to close the business for the day, rather than pay for a generator.
"I have to close for the whole day because we can't do any work. I still have to pay wages but we are still losing a whole day's trading," Ms Bray said.
"I have had to ring and reschedule all my appointments. Most of my clients make appointments two or three weeks in advance so two-weeks notice doesn't really help."
Endeavour Energy is carrying out "important upgrades" throughout the day, which will improve the reliability and security of the electricity supply in Penrith, and said that the interruption essential for the safety of workers.
211 local consumers will be affected by the outage.
"Requests were received from some of the 16 affected businesses to undertake this work outside normal business hours. However, this would have led to an even greater level of inconvenience to the other 195 residential customers who will be without power during these planned works," a spokesperson said.
"We're also working hard to keep costs down by carefully managing overtime and passing these savings back to customers. This is why our customers have the lowest network charges in NSW."
The spokesperson said that Endeavour Energy does not generally provide generators to customers unless there are special circumstances.
"Endeavour Energy understands that no interruption to power supply is ever convenient… Endeavour Energy would like to thank the customers affected by these planned works for their patience as we complete this important upgrade," the spokesperson said.