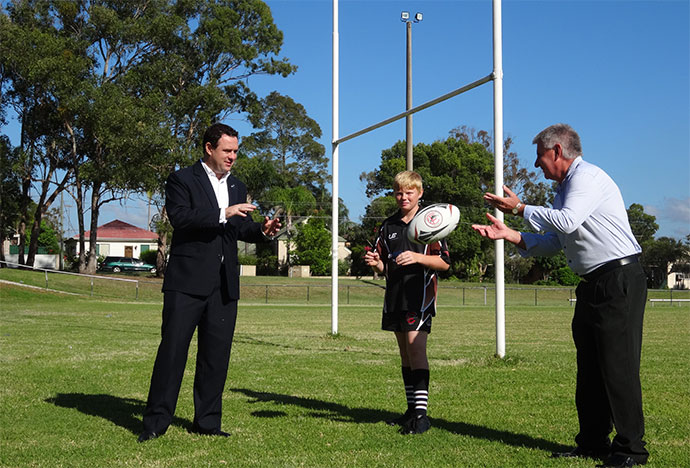 Things just got a little brighter at Patterson Oval in Cambridge Park after Penrith Council and the NSW Government announced $52,000 in funding to install new floodlights.

The local facility, situated on College Street in Cambridge Park, will receive $27,000 from Council and $25,000 from the State Government to complete the project.
Meanwhile, Myrtle Road Fields in Claremont Meadows will also receive a huge injection of cash with Council throwing in $90,000 and the State Government $25,000 to also install new floodlighting.
Liberal Candidate for Londonderry, Bernard Bratusa, welcomed both grants, saying they will boost participation in sporting activities in the area.
"The installation of floodlights at both of these venues will enable local teams to play in the evenings, which will stretch out available playing time," he said.
"This is important for participation in sport across the Penrith and Londonderry area, and will assist locals in staying fit and healthy."
NSW Minister for Sport and Recreation and Penrith MP Stuart Ayres was also at today's announcement at Patterson Oval.
"Sport is a huge part of our way of life and the NSW Government recognises that, which is why we are here today presenting this grant," Mr Ayres said.
"We look forward to seeing the benefits for Cambridge Park and Claremont Meadows as well as the surrounding communities."
Patterson Oval is home to 300 members of the Cambridge Park Rugby League Club from U6's right through to A-Grade. The local club was also once the home to rugby league legends in Brad Fittler, Greg Alexander and Des Hasler.
Club Treasurer, Louise McDermid, said the club had been in need of new lighting for some time.
"The oval is used four nights a week for training. The new floodlighting will allow the kids to train for longer hours, which I know they'll love," she said.