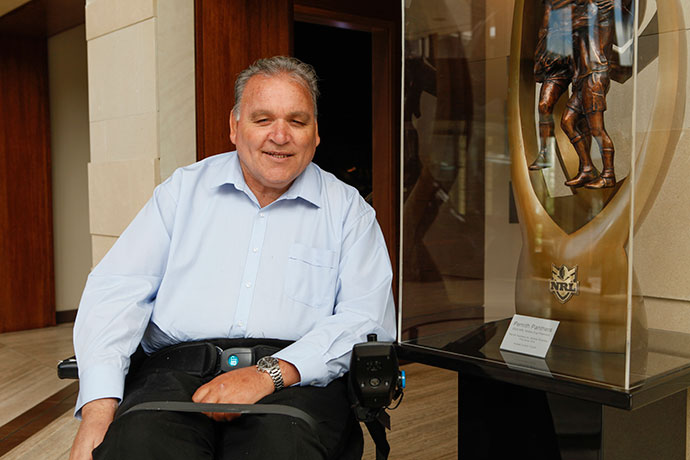 "Don't just sit there, Penrith, be loud and proud of your team" – those are the fighting words of Panthers legend John Farragher who wants local supporters to get up and make some noise this season.

The former Penrith prop, who suffered a career-ending neck injury back in 1978, believes Panthers supporters are too quiet at home games and should enjoy themselves more.
"This is my 37th year as a supporter and I think we have the most sedate fans in the competition," Farragher admitted.
"I'm not taking the mickey out of our supporters because we have some wonderful fans, but we need a lot more."
Farragher, who is still a prominent member of the Panthers community, said strong crowd support can often work in a side's favour.
"This footy side goes out there every week representing our community but the sad part for me is, you go to a game, the crowd cheer loud initially then they go quiet for a while… people don't understand how powerful the noise can be," he said.
"As a player out on the field you can actually lift in attack and defence just off the vibe of the crowd.
"I watch a lot of football on TV and you can hear the crowd booing for a penalty then, all of a sudden, there are two or three penalties. It can have a big impact on a game."
Farragher pointed out how fans of the Western Sydney Wanderers and English Premier League soccer make him envious due to their passion and emotion at games.
Farragher suggests Panthers fans should also come up with their own chants to sing along to during home matches.
"The Wanderers fans get involved and enjoy the game, but Panthers fans sit in their seats and stay silent too much," he said.
"I really ask the fans to please get into the game more and you'll enjoy it more."
After last year's success, the Panthers are tipped by many to have another excellent season and perhaps go one better than their preliminary final appearance last season. Farragher said if there was any year to support the Panthers loudly and proudly, this was most definitely it.
"We're on the cusp of something special but if you're going to a game and not getting into it then you're better off sitting at home watching a movie," he declared.
"At the end of the day, we've been fairly sedate for the past 49 years but we can change all that now."