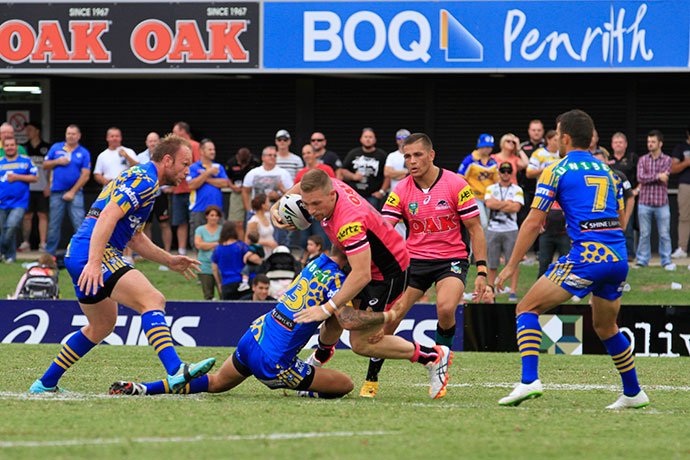 Sitting in the sheds before his return to football a fortnight ago, Bryce Cartwright was nervous. He was so anxious about coming back from serious ankle surgery that he got dressed an hour before the rest of his teammates.

"I was very nervous sitting in the sheds… I think I was ready an hour before the game," Cartwright told the Weekender.
"But when I got out there the sun was shining, the crowd was loud, the adrenaline was high and it certainly got me through the game. It would've been tougher coming back with no crowd or atmosphere."
The 20-year-old's return, during Penrith's trial in New Zealand, was seven months in the making after severely injuring his ankle last August.
Cartwright said he was in a lot of pain following multiple surgeries but came out on the other side of it feeling hungrier than ever to rip into his second season in the top grade.
"My time was cut short last year, so I feel like I'm entering my debut season again," the backrower said.
"My first goal is to be part of the team, do a job and then cement a starting spot. I also want to stay fit and healthy the whole year."
And if Penrith are going to give the competition a real shake this season, they'll need Cartwright fit and at his best every week.
As the nephew of Panthers legend John Cartwright, the St Marys junior has long been touted as a future superstar of the game.
With so much expectation bestowed upon his young shoulders, the pressure can also be just as heavy.
"I kind of try and push the pressure and expectations aside, which is a little bit easier to do when you live out west and you are away from things," Cartwright said.
"I don't read into all that stuff, I stay in a bubble and just listen to the coaching staff and my teammates."
This week, Cartwright was named as an ambassador for St Marys Rugby League Club, an organisation that has a long and proud history with the Cartwright name.
Club President Warren Smith said he couldn't think of a more fitting person to represent the club.