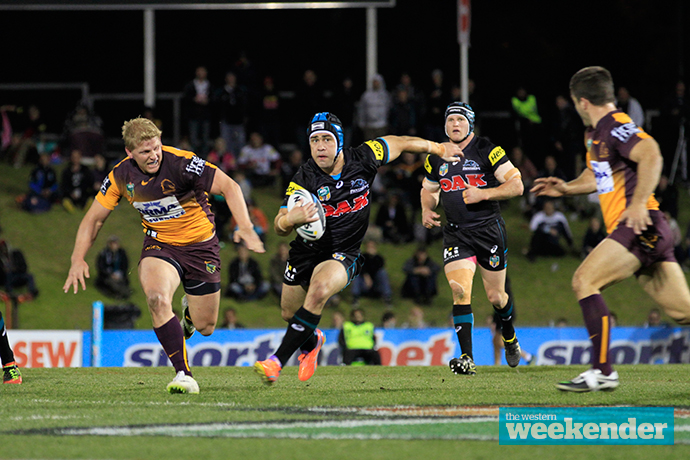 He may have had a chance of playing in the Auckland Nines, if he wasn't recovering from ankle surgery, and he'll likely be selected as an Indigenous All Star next Monday, but star five-eighth Jamie Soward has only one focus on his mind – that's keeping the Panthers on top this season.

The 30-year-old premiership winner will enter his second season at the foot of the Mountains this year after putting the club on his back in 2014 and guiding them all the way to the grand final qualifier.
No one saw Soward's career resurgence coming last year but now everyone's expecting big things from the pint-sized number six.
Soward's services are in high demand this pre-season too with the Auckland Nines and NRL All Stars game on the agenda as well as NRL trials, which begin next month.
However to ease stress on his body, the former Dragons playmaker has already ruled himself out of the New Zealand novelty and may reconsider an appearance at the All Stars, if his ankle isn't right.
"We've just got back out of the festive season and I'm more or less trying to get the body ready for a long season ahead," Soward told the Weekender.
"It's only getting longer with all the stuff in the pre-season, you've got to be ready to go, so you've got to share it around and you can't play everything.
"If I'm selected for All Stars, I'm sure there'll be a decision to be made but we've got a couple of trials to get ready for too."
Soward's sole focus on the Panthers will be welcome news for fans and coach Ivan Cleary, who will no doubt want their best players fit for the start of the season proper.
With so many players undergoing off-season surgery to be ready for Penrith's March 8 clash against the Bulldogs, the Panthers could be fielding a side full of youngsters in Auckland later this month.
"As fans saw last year we had a lot of injuries, a lot of guys are coming off surgery and have a lot of hard work to do to make sure they're ready to go," Soward said.
"We're pretty lucky at the moment, we've got a lot of outside backs that could easily go over there and play in the Nines and compete at a high level.
"Whoever goes over, I'm sure we'll have a competitive team."
Soward himself underwent routine ankle surgery during the off-season to help alleviate some issues he was having with it last season. The surgery was a success and he began running again the week prior to Christmas.
"It was just a bit of stuff giving me grief throughout the year and it became pretty painful, so it was best to get it out," Soward revealed.
"I'm another year older now, so I get a bit sorer than I did in the past but everything's going good."