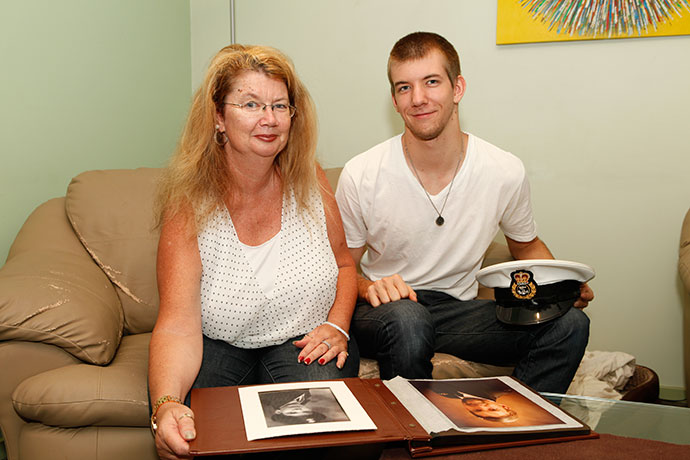 Following in the footsteps of his father, grandfather and relatives before them, Cranebrook's David Henry has become the fifth generation of his family to enlist in the Royal Australian Navy.

The 20-year-old Nepean Legacy legatee is part way through his recruit training at HMAS Cerberus in Victoria, which will ultimately leave him as a fully qualified submariner, like his father and grandfather before him and a member of the Navy like his great-grandfather and great-great-grandfather before them.
While joining the Navy was not the first career path that Mr Henry looked at, the obvious talent for working in the armed forces that runs in his family was undeniable and led him to his enlistment.
"After I learnt about dad being in the Navy and a Submariner, and granddad doing the same, and only recently learning that two generations before them were in the Navy too, that gave me a sense that joining would be doing the right thing – it's in my blood," he said.
"But, even taking away the fact that I have had family in the Navy, I have always had that feeling of wanting to do something to give back."
In a way, Mr Henry is carrying out his training in memory of his father, who passed away when he was just three-months-old after 20-years of service as a submariner.
"It is awesome to know that I am going through the same bases as he did, the same places that he was. Only a few years ago he was going through the same process, the same training, having a blast and coming out the other end in the Navy," he said.
"I have a picture of dad back at base in his uniform. I think it was week two when we got our uniforms and it was a shock to the system to see that they were almost the same uniform.
"It was awesome to know that I was wearing the same thing that he did. It made me a bit teary on that day but it was a good feeling."
Mr Henry has signed up for at least six years in the Navy but can see himself forging a much longer career.
"In terms of my ultimate goal, dad had an award named after him and it is for submariners only," he said.
"I am going to try to do my best to get that awarded to me.
"It would be interesting to have the Tim Henry award awarded to his son, that would be something special."
Mum, Debbie said that she could not be prouder that her son is following in the footsteps of his father.
"I am proud, so proud. On his enlistment day, I was worried that I was going to cry a lot, not just because I raised him as a single mum but because of the career path he has chosen, given the circumstances," she said.
"But the whole time he did nothing but smile. When I saw him smiling, I thought 'everything is going to be OK'."